Report counts urban cost of BC farm closures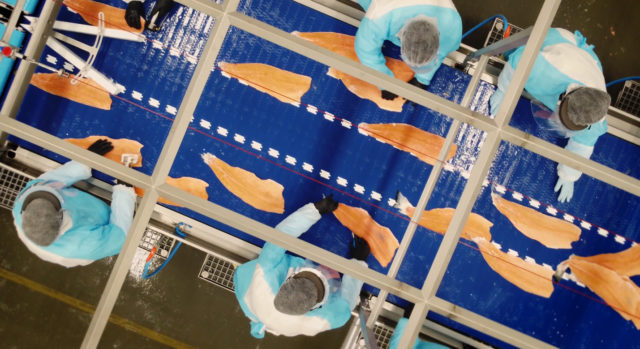 An economic analysis commissioned by the salmon industry in British Columbia has found that hundreds of urban jobs are also at risk as a result of the Canadian government's decision to close salmon farms in the Discovery islands region.
The report, from independent consultants RIAS, analysed the economic importance of fish farming for processing and related business in Surrey, a city in British Columbia that is a key centre for the industry. The report follows an earlier analysis by RIAS on the direct impact of the closure decision on farms in the Discovery Islands/Campbell River region.
The latest RIAS report finds that, for Surrey alone, salmon farming contributes (in Canadian dollars):
$220m in annual revenue;
$46m in GDP;
344 jobs (full-time equivalent); and
$24m in annual salaries.
In total, Surrey's salmon farming hub generates more than $363m for the province of British Columbia, and 1,189 full-time jobs.
The farms due for closure account for 24% of total salmon production in British Columbia, the report notes.
Report author Doug Blair, President of RIAS, said:  "The report very likely underestimates the impact of salmon farming in Surrey. It doesn't account for the likelihood that the impact in Surrey will be outsized as the salmon farming industry faces a 24 per cent decline in production, it will be forced to consolidate processing operations on Vancouver Island to maintain economies of scale. What is clear, however, is that a substantial number of jobs will be lost in Surrey as salmon farmers attempt to adapt to the impacts of the federal Liberal's Discovery Islands decision over the next year."
The report says that it is not yet known how many of the 344 people in Surrey will lose their jobs, as it is yet too early to determine specifically how companies will manage the impacts of losing a quarter of all production in the province over the next year.
However, the authors note "…we heard anecdotally that layoffs have already begun at operations in Surrey, with one processing plant reducing most employees to two or three shifts a week rather than five as an interim measure… what can be said with confidence is that this decision puts those 344 jobs in Surrey at significant risk, and that we will have a better sense of the actual impact in the coming months."
Nav Nijjer, Owner, Shoreside Workforce said: "This decision happened so fast; it's already starting to impact my people working in fish processing. I think the biggest thing for us is the uncertainty that it brings for our Surrey workers. We haven't been given any information and now my people are left wondering if they'll have a job in a few months."
Ravi Jouhal, General Manager, SureCold Refrigerated Storage also commented: "Everyone's concerned. I get questions every day from my team asking about the future. I don't have answers, we don't know what's going to happen. I was born and raised here in Surrey and knowing how important the salmon farming sector is to our community makes this situation that much tougher."
The decision to close open-net fish farms in the Discovery Islands, as from 30 June 2022, was announced by Fisheries Minister Bernadette Jordan in December. She also announced an immediate ban on restocking the farms, but this has been overturned by an injunction brought by the farmers in federal court.
The BC Salmon Farmers Association has asked Jordan to asking the minister to revisit her decision and work with all stakeholders to find a better way forward.