Regulator adopts flexible approach in virus crisis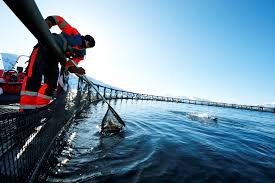 SALMON farmers in Scotland have welcomed moves by regulators that will help them meet the challenges of producing fish during the coronavirus outbreak.
With staff reductions and disruptions to processing and retail distribution, temporary measures have been agreed by the Scottish Environment Protection Agency (Sepa) and the government that allow regulatory leeway.
In particular, fish can be kept in the water for longer, even if this extends normally strict biomass limits.
Sepa said it recognises that, as a result of Covid-19 restrictions, salmon and trout farm operators may not be able to comply fully with their permit conditions at all sites, for reasons beyond their control.
In a statement on its website, the agency said: 'Sepa recognises that postponements to harvests during the Covid-19 outbreak may be required due to staff availability and that this may create challenges for operators to stay within biomass limits and associated stock density conditions.'
Due to a reduction in processing capacity or access to markets, Sepa acknowledged that operators may have to hold fish for longer than normal in pens and put smolts out to sea earlier.
Temporary breaches of biomass limits will not be treated as non-compliances, but Sepa added that farmers should be 'taking all practical steps to minimise the scale of exceedance of the limits'.
These steps included adjusting feeding strategies, re-locating fish if possible, taking account of fish health considerations, and grading out fish where feasible.
Furthermore, biomass limits should only be exceeded at sites where the likelihood of environmental harm is low.
There will also be greater flexibility over the collecting and analysing of environmental samples.
The Scottish Salmon Producers' Organisation (SSPO), welcoming the move, said it was important to look after the welfare of livestock and help ensure a supply of fresh food to UK supermarkets.
SSPO sustainability director Anne Anderson said: 'All salmon farmers are working, first and foremost, to ensure the safety of their workforces.
'They also have a duty of care, as farmers, to look after their fish and adhere to the rigorous regulations that support salmon farming.
'However, we welcome the recognition by regulators that these are exceptional circumstances and are grateful for their pragmatic proposals. The flexibility around these issues will be extremely helpful.
'The sector's commitment to communicate with Sepa will ensure that both regulator and companies can monitor progress and anticipate changing circumstances in order to take the necessary steps to look after the fish and the environment.
The SSPO said it will continue to work with Sepa to discuss the developing situation and how the sector can continue to maintain food supply.
Sepa's full Temporary Regulatory Position can be read here: https://coronavirus.sepa.org.uk/media/1013/temp_reg_position_finfish_aqua.pdf