Register now for Seagriculture EU 2023!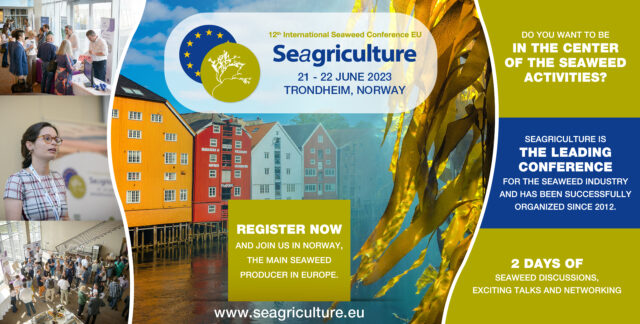 Seagriculture EU 2023, the leading conference for the seaweed industry, will take place from 21 – 22 June 2023 in Trondheim, Norway.
The two-day program will go into the many different applications of seaweed that exist now and will include 6 plenary sessions, a panel discussion, an accompanying trade show and plenty of room for networking. The Seagriculture EU 2023 conference program is designed to provide you with a comprehensive overview of the seaweed industry, from the latest research to practical applications in the marketplace. With a diverse range of sessions, the conference provides an opportunity for attendees to learn from experts in the field, network with industry professionals, and stay up-to-date on the latest developments in the seaweed industry.
Read about some of the highlights of Seagriculture EU 2023.
Unique Conference Program: The conference gathers top speakers who will share their know-how within seaweed for feed, food, offshore cultivation, investment and business aspects as well as biorefinery of seaweed and much more.
Poster Presentations: Researchers are welcome to present their poster at Seagriculture EU 2023 and show their projects to other professionals in the industry.
Trade Show: High-valued companies which are active in the seaweed industry will showcase their services & products. Would you like to join the trade show? Then please contact us!
Seaweed Happy Hour: The Seaweed Happy Hour offers you the unique opportunity to taste seaweed products while networking and exchanging with other professionals in the industry.
Conference Dinner: The dinner is included in the conference registration and takes place in the evening on the first day of the conference. A perfect opportunity to network with the other conference delegates while enjoying a dinner together.
Register now for Seagriculture EU 2023! More information on the conference website: https://seagriculture.eu/