'Redesign' aquaculture for the future says funder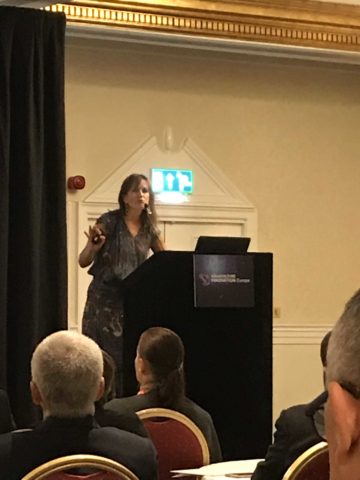 THE aquaculture industry needs a 'complete redesign' if it is to meet a global requirement to triple production by 2050 and feed a growing world population.
That is the thinking behind Aqua-Spark, the Netherlands based aquaculture fund that invests in sustainable growth in the sector.
Amy Novogratz, speaking on the opening day of the Aquaculture Innovation Europe conference in London yesterday, said the company she founded with Mike Velings in 2011 wanted to make sustainable aquaculture more mainstream.
Aqua-Spark selects small to medium businesses on the basis of their ethical outlook as well as their commercial potential, and every enterprise in the fund's portfolio signs a 'shared values manifesto', said Novogratz.
There are now 17 companies in the Aqua-Spark stable, including six farming operations, three feed ingredients firms, and five technology innovators.
Novogratz said the aim was to secure eight new investments a year, with the goal of signing up 60 to 80 companies, with a total funding target of 1.3 billion euros, by 2030.
Aqua-Spark draws its finance from 149 individual investors – mostly family funds – across 23 countries. Co-investors include Rabobank, Mitsui, Buhler and Cargill.
The conference, at the Gloucester Millennium Hotel from September 10-11, also heard from fish farming analyst Christian Nordby, of Kepler Cheuvreux.
Speaking about the economics of aquaculture, he said the US was still the biggest global market for salmon, and would likely remain so for the next five years.
But the potential in China was huge and the market in ten years could be 400,000 tonnes, equal to that of the current US market.
Nordby said he had recently visited China and witnessed the fast expansion of the market – 'salmon is on the menu everywhere in China now'.
A trade deal struck with Norway in May had seen exports to China increase by 25 per cent, but on the supply side, Nordby said salmon growth would be slower in the next few years.
Biomass growth in Norway is restricted to three per cent a year because of the 'traffic light' regulation system.
Improving productivity could boost supply, however, but the last few years had brought lower productivity and higher mortalities, which Nordby said was a result mainly of sea lice.
The big farmers, he said, were now investing more in post smolt operations to improve productivity, and he predicted that this would account for the greatest growth in the next few years – more than either offshore or land based production.
'Today, farmers prefer to invest in post smolt systems than RAS because of a better ROI (return on investment),' he said.
The conference, in its third year, invites start-ups, whittled down to 13 from a long list of applications, to pitch to investors.
On day one, the first two innovation showcases featured nine entrepreneurs, covering alternative feed ingredients, live feed for larvae, an early warning system for toxic algal blooms, data gathering technology aimed at more accurate sea lice counting, and a one-stop shop, salmon marketing portal.
Today, the final innovation showcase will highlight developments in digitalisation, feed from CO2, an artificial intelligence based farm app, and a cloud based digital platform to enhance aquaculture operations.
The presentations will be followed by the announcement of the Audience Award for Innovation, chosen by conference delegates.