Record crowds at Brussels show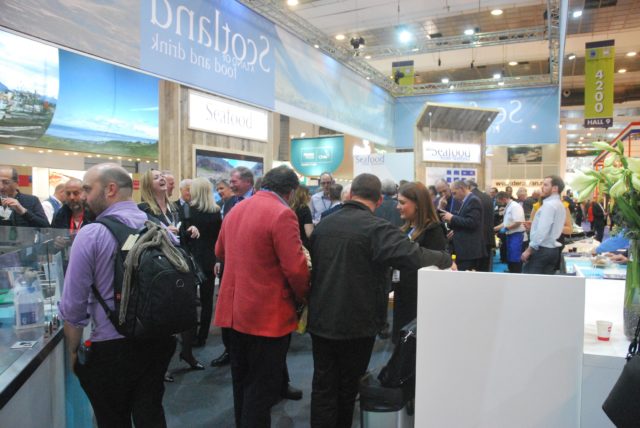 THE world's largest seafood exhibition, held in Brussels in April, attracted record crowds this year, with visitor numbers reaching more than 28,500, the show organisers revealed today.
Seafood Expo Global featured the stands of 1,859 exhibiting companies from 79 countries, including 73 national and regional pavilions.
Among the first time exhibitors were representations from Latvia, Myanmar, Poland, Venezuela, Costa Rica, Cyprus and Romania. In total, exhibits covered 38,338sq m of space.
'It is very impressive to see the exposition grow year after year and to know that it brings the seafood community from nearly 79 per cent of the countries represented in the world,' said Wynter Courmont, event director for show Expo organisers Diversified Communications.
'This is a strong indication that business continuity is important to the industry and seafood and processing companies from around the globe are counting on this event to reach their business goals.
'The continued growth of this event shows the value of face-to-face meetings for buyers and suppliers doing business in the global seafood industry.'
Cor Bal from Primstar, a long time exhibitor, said the expo has been a pillar of the company's global exhibition strategy for many years.
'The whole format suits us and is fully integrated in our commercial strategy year after year,' he said.
Buyers from restaurants, supermarkets, hotels, catering services, importers, distributors and seafood markets attended the exhibition in the Belgian capital. A record 455 high-volume buyers participated in this year's 'Key Buyer' programme.
'It's an event 100 per cent dedicated to fish and seafood and it brings the whole sector together once a year, where you can meet with current and potential clients and see other businesses, competitors and non-competitors alike,' said a category manager from Ahold (Netherlands).
Additional key buyers who attended included delegates from Aldi (Belgium, Denmark, Germany, UK); AmazonFresh (US); Carrefour (Belgium, France, Romania, Spain); Casino Group (France, Thailand); City Super (Hong Kong); Compass Group (Belgium, France, Luxembourg, UK); Costco (Canada, US); Coto Cicsa (Argentina); Delhaize (Belgium); Dia Group (Spain); Food Lovers Market (South Africa); Iceland Foods (UK); IKEA Food (Netherlands, Sweden); Intermarche (France); JD Fresh (China); Lidl (Belgium, UK); Metro (Austria, Bulgaria, Belgium, Czech Republic, France, Germany, Hong Kong, Netherlands, Russia, Turkey); Morrisons (UK); Sainsbury's (UK); Sodexo (Belgium, France, Italy); Tesco (Hungary, Poland, Slovakia, UK); Waitrose (UK); Wegmans Food Markets (US); and Whitbread (UK).
Next year's Seafood Expo Global/Seafood Processing Global will be held on April 24-26 at the Brussels Expo.