Record Aqua Nor marks its 40th anniversary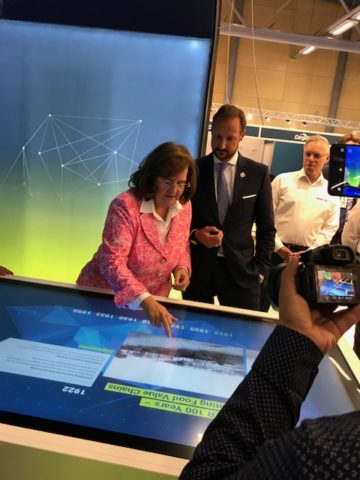 THE opening day of Aqua Nor 2019 attracted nearly 7,000 visitors, an increase on the first day attendance two years ago at the biennial exhibition.
Some 6,952 visitors from 59 countries were registered yesterday, and record numbers are expected during the course of the four-day show.
With a brand new hall at the Trondheim Spektrum, there is also a record level of exhibitors, close to 700, according to Erik Hempel, the communications director of the Nor-Fishing Foundation which runs the event.
At the 2017 Aqua Nor, there were 550 exhibitors, and between 25,000 to 30,000 visitors over the course of four days.
Hempel said there were 140 companies on the waiting list as the show opened this year, and he suggested that Nor-Fishing might reduce the maximum stand space for exhibitors in future, to accommodate the growing demand.
Aqua Nor, the world's premier aquaculture gathering, is marking its 40th anniversary since staging the first show.
The official opening yesterday was also the 20th occasion – out of 21 – that the Norwegian royal family has been present, with the popular Crown Prince Haakon touring the halls following the welcoming formalities and a speech by Norwegian fisheries minister Harald Nesvik.
Among the stands Crown Prince Haakon stopped by was that of Baader, the German fish processing equipment company which is celebrating a rather grand anniversary of its own – 100 years in business.
The Crown Prince talked to Petra Baader, the current executive chairwoman and granddaughter of founder Rudolph Baader.
Under her leadership, the company has developed technology that makes it possible to follow each individual fish as it leaves the fish processing facility.
'In our software, our clients can see pictures of the fish, see what box they were packed into and see data on the fish and the batch it is a part of,' she said in an interview with the daily Aqua Nor newsletter.
'We've invested heavily in the digitalisation of our entire value chain – and believe we can help both our clients and the fish farmers with the data we now offer.
'Further growth lies in the possibilities of data and business intelligence,' said Baader, who has been an Aqua Nor regular for decades.
Aqua Nor 2019 runs until Friday, August 23.