Read all about it! June Fish Farmer out now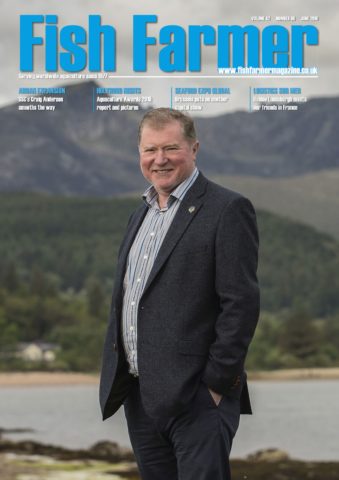 SALMON boss Craig Anderson agreed to be interviewed for the latest issue of Fish Farmer, which is now available online.
The CEO of the Scottish Salmon Company discusses plans for expansion on Arran, recent attacks on the sector, and why he would like to see less of a Norwegian influence on how fish farming is managed in Scotland.
Also in the June issue, Robbie Landsburgh of the SSPO (Scottish Salmon Producers Organisation) reports from a fact-finding trip to Boulogne-sur-Mer, where seafood delegates forged closer links with French logistics teams in preparation for Brexit worst case scenarios.
Highlights from the Aquaculture Awards, held in Edinburgh in May, are featured too, as are details from two cleaner fish workshops and the Stirling careers day, organised by the Aquaculture Students Association.
And there is a round-up of Seafood Expo Global, the Brussels bonanza that attracted almost 30,000 international visitors this year.
May was a very busy month in the aquaculture world – and at Fish Farmer! See the link below for all the news.
Printed copies of the June magazine will be sent out to subscribers this week. For more information, contact the editor (jhjul@fishupdate.com).