Read all about it! Fish Farmer out now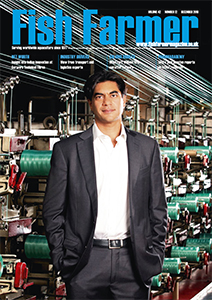 FISH Farmer travelled far and wide to produce our December magazine, from Fort William to India, bringing news of the latest developments in aquaculture.
Our cover story this month features Garware Technical Fibres, the truly pioneering Pune based company that supplies – through Kilbirnie's W&J Knox – the majority of Scottish salmon farms with anti-predator netting.
A tour of Garware's factories, in Pune and Wai, and an interview with the company's inspiring boss, Vayu Garware, revealed innovations in net making technology that will help future generations of farmers improve fish health as well as cut operational costs.
Garware's R&D team have developed a copper infused net that has dramatically reduced the amount of net cleaning required, in trials from Scotland to Chile, and they hope to one day go a step further, with a net that needs no cleaning at all.
The resourceful company is also making the nets for Norwegian farmer Nordlaks' ground-breaking Havfarm ship, one of the new concepts approved by the Norwegian Fisheries Directorate that promises to change the face of salmon farming.
Also in our December issue, we visit the enterprising couple behind Northern Light, the consultancy which project managed Barcaldine, Scotland's newest RAS hatchery, for Scottish Sea Farms. You can read about Sarah and Greg Riddle's exciting plans for the year ahead in this month's Fish Farmer.
Other highlights include an insight into logistics company Northwards, a tale about a South African hatchery, a report from the recent Pharmaqademy in Inverness – and, of course, all our regular columnists.
The December issue is available online (see link below) and subscribers will receive printed copies later this week – as well as the annual Fish Farmer year book.
Happy reading – and happy Christmas!
https://issuu.com/fishfarmermagazine/docs/fish_farmer_december_2019