Read about feed in January's Fish Farmer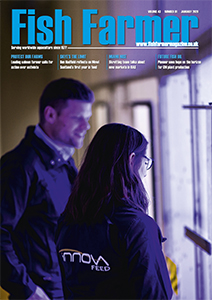 THIS month's Fish Farmer marks the New Year – and new decade – with a special focus on the aqua feed sector, as it adapts to meet the demands of an ever changing industry.
We hear from Ben Hadfield, the boss of Mowi Scotland, and now Ireland, too, on the progress being made at the company's new feed mill at Kyleakin on Skye, and how production will be ramped up in the year ahead.
The growing self-sufficiency of salmon farmers has seen the big feed companies consolidate and diversify. We talk to some of the leading players, such as Skretting, which is developing its RAS feed market alongside the explosion in land based salmon farming ventures.
And we also get an insight into one of the most successful insect protein companies, InnovaFeed, as it prepares to open the world's largest insect meal plant, in France.
The most exciting innovations in aquafeeds depend on cutting edge science, and British experts are at the global forefront of breakthrough research. As a new project into novel fish oils gets underway at Stirling's Institute of Aquaculture, Fish Farmer catches up with Professor Johnathan Napier of Rothamsted Research, the pioneer behind genetically modified camelina plants that can produce valuable omega-3.
Elsewhere in our January issue, regular columnist Nick Joy gives his take on the general election, and Dr Nick Lake outlines priorities for shellfish businesses. Meanwhile, the SSPO's Hamish Macdonell defends the people who work in rural communities, and Dr Martin Jaffa defends Fish Farmer!
Mowi's Ian Roberts addresses the escalation of campaigns by anti-salmon farming activists in Scotland, speaking from his considerable experience in Canada's salmon farming industry about the threat posed by unchecked protests.
All this – and more – can be found by clicking the link below. Happy reading, and happy New Year.
https://issuu.com/fishfarmermagazine/docs/fish_farmer_january_2020