Proximar begins feeding first fish in its Japan hatchery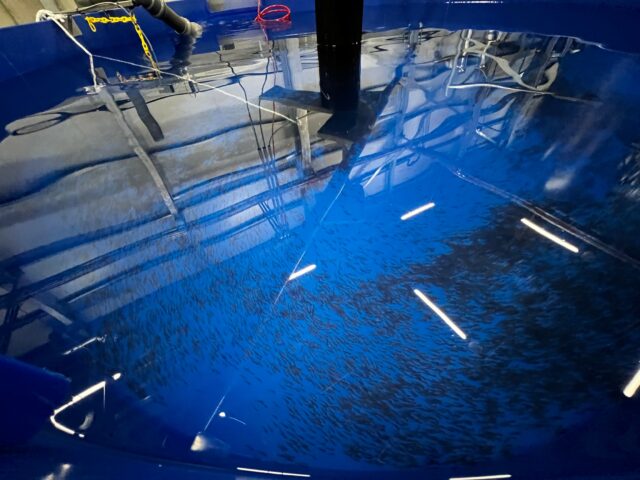 Proximar Seafood has announced that the first batch of Atlantic Salmon juveniles have started to take feed at its land-based farm in Japan.
The transfer of Proximar's first generation fish to the start feeding department marks a milestone for Proximar's production team, after the first eggs were successfully inserted in the company's hatchery at Oyama, near Mount Fuji, Japan in October.
Charlotte Okstad, Hatchery & Nursery Manager at Proximar said: "The successful transfer of our first juveniles to start feeding is an important milestone for us and according to our production plan. I am excited to see the progress and development in the next coming months."
The batch will stay in the first feeding area for around two months, before the next transfer to the nursery.
Construction on Proximar's RAS (recirculating aquaculture system) farm facility started in March 2021.
The coming year should see the ongoing installation of equipment in the nursery area, which will be commissioned in early March, while the grow-out building is scheduled to be completed in the third quarter.
Project CAPEX (capital expenditure) is in-line with previous communication at levels around NOK 200/kg, based on target production capacity, the company said.
Proximar said that with more than 80% of the civil works finished and 95% on fixed price contracts, it has a clear view of the construction costs.
The hatchery and nursery building is now completed, with the last part of equipment installed by Aqua Maof.
Dharma Rajeswaran, chief operating officer at Proximar, said: "The quality of works is the best I have seen in my 11 years of experience with RAS. I am convinced that the low complexity design of Aqua Maof is a huge advantage in terms of operational risk.
"The combination of strong technology and our highly competent team provides confidence in reaching our production goals."
Following a successful track-record in Poland, where Aqua Maof's facility has now marked approximately five years of successful production of Atlantic salmon, Proximar remains confident that the Aqua Maof solution will deliver according to expectations.