Providing underwater clarity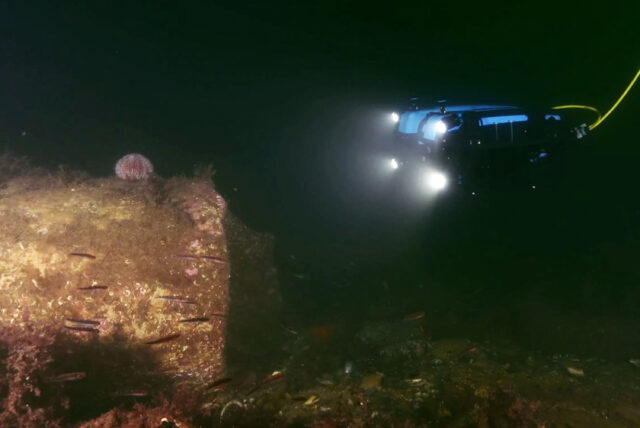 Step changes in seabed monitoring could establish new regulatory standards
A new research and development project, recently funded by the Seafood Innovation Fund, is set to transform the way seabed monitoring is undertaken in the near future.
A small part of a seabed survey close to a salmon farm, consisting of a photogrammetry orthomosaic combined with an auto ID example highlighting accumulations of maerl (yellow)

Over the next 18 months, Tritonia Scientific, a company based near Oban that specialises in integrating emerging underwater technologies, will deliver a series of industry-relevant demonstrations of their new seabed monitoring and mapping systems. The project will be focused on a technique called "georeferenced photogrammetry", a method that links image capture with underwater mapping.
Photogrammetry creates 3D computer models from standard imagery, producing accurate records of features and environments. It is ideal for surveying underwater as the water "disappears" from the models to reveal significant areas of the seabed previously unseen. The models can be viewed as digital twins of the underwater targets and provide indisputable data on which to base more informed decision making.
"Photogrammetry is rapidly becoming a routine underwater monitoring tool with many different applications" says Dr Martin Sayer, managing director of Tritonia, "but the key innovation in this project combines digital seabed modelling with precise underwater georeferencing. This will mean two things: you can return to survey areas easily and routinely in order to measure exactly what changes are occurring and where, but it also improves underwater navigation in ways that support near-autonomous surveying. Together this will deliver step-change increases in the efficiency and reliability of monitoring ever-larger areas of seabed."
The research will be based on using cost-effective observation class ROVs (remotely operated vehicles) integrated with through-water acoustic tracking devices that have been modified by Tritonia to markedly improve accuracy and precision. Although the techniques being used need only one camera, the objectives include designing and building new stereo-camera units that can be attached to other types of ROVs making the technology accessible for other operators.
The fact that the resulting seabed models are digital will accommodate varying levels of automation in the way information is collected from them. Use of advanced machine-learning processes will support rapid identification and measurement of target species or seabed types. The digital formats of the surveys, when georeferenced accurately, will make time-series analyses possible by automatically comparing exact overlays of the data.
A core deliverable of the project will be a series of demonstrations of 3D seabed mapping around active finfish production sites operated by MOWI, the industry project partner, with specific emphasis on locations associated with hard substrate seabed and/or priority marine features.
"Currently we can survey and model about 5,000 m² of seabed daily", says Dr Sayer, adding: "We are confident that this new R&D effort will increase these areas at least tenfold, and without much additional processing time because we will be developing more advanced machine-learning processes."
In their support for the project, representatives of salmon producers have acknowledged that there is a sector desire to have tools that better assess hard substrates in order to determine environmental compliance. Likewise, regulators consider that producing a photogrammetry tool for surveying and monitoring hard substrate benthic habitats has the potential to be used for regulatory purposes.