Prawn farmer 'back on track' after virus blow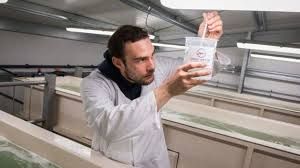 BRITAIN'S first warm water king prawn farmer has recovered from a setback which saw the majority of its stocks wiped out.
Great British Prawns, which in June announced its plan to rear Pacific whiteleg shrimp (Litopenaeus vannemei) from a land based farm in the village of Balfron in Stirlingshire, had hoped to harvest its initial crop in the summer.
But the juveniles, imported from Texas in the US, were infected with the shrimp virus IHHNV (infections hypodermal and hematopoietic necrosis virus) on arrival and the bulk of them had to be culled.
The company's chairman, James McEuen, said the figures quoted in a weekend report, of just 43,000 of the crustaceans remaining from a batch of 350,000, were broadly accurate.
However, he told Fish Farmer that the £2 million RAS (recirculating aquaculture system) facility was now being restocked and the aim was for a first harvest before Christmas. Eventually, the company will raise the species from its own broodstock.
'To start the farm and get going, we have to import initial stock because there are no prawns grown in the UK, and that then enables us to build up a breeding stock for the future,' said McEuen.
'The virus, IHHNV, is a very common disease and a lot of the prawns that come into the UK frozen have it, and there is no harm to humans. But it affects prawn growth and is something we are absolutely focusing on avoiding.'
He said that although the loss was a blow, Great British Prawns has a 'very tight and controlled biosecurity that has meant that we have been able to contain this' and the company received a 'gold star' from Marine Scotland.
'Our farm is a closed system so there is no risk to anything outside the farm, and given that we were able to deal with it so quickly, we've had a fantastic response from the regulatory authorities. We have been inspected and within a week we were given the all clear to crack on.
'We're back on track and we are aiming for our first prawns to be harvested before Christmas.'
The team has been to visit the supplier in Texas to inspect the facilities, and has confidence in the security of future supplies.
'The silver lining is that we believe that now the relationship with the supplier, who was clearly embarrassed, is now working with us incredibly positively,' said McEuen.
'We will end up with an improved product as a result of this because they don't want it to happen again.'
McEuen added that the farm in Scotland is cutting edge and was new ground for the regulators, as well as for the farmers.
Normally native to the Eastern Pacific Ocean, the prawns at Balfron will be grown in over 300 tonnes of water capable of holding up to a million prawns, which will grow to reach an average size of 25g each. Tank temperatures will be kept at a tropical 28 degrees Celsius.
The farm has been established next door to a major dairy operation to take advantage of heat from its anaerobic digester, and is being touted as the model for a new kind of seafood production, that uses renewable heat, innovative feed stocks and advanced filtration to produce high-value warm water king prawns with minimal environmental impact.
Its new RAS technology cleans and recycles the majority of the water in the system without contaminating the environment.
The firm says its closed filtration system won't require the antibiotics and other medication, chemicals and manual handling used widely in the existing prawn farming industry, resulting in uniquely 'clean', fresh prawns.
McEuen would not give a figure for proposed production volumes, but said the focus was on proving an ability to continually harvest.
'We will grow slowly but the critical thing for us is consistency of supply for our customers. The last thing we want to do is let down customers, and going forward we'll continue to focus on breeding at the farm.
'The customers that are waiting are so excited about this; many of the restaurants we're going to be supplying currently don't serve king prawns because they insist on local and fresh produce. Therefore there is a big gap on their menu.'
McEuen said they would proceed with caution to meet demand, and will continue the firm's policy of delivering only to restaurants within a two-hour radius of the 1,500m² farm, fresh from tank to plate within 24 hours of harvesting, with no need for freezing or air miles.
'The most important thing is we advance carefully and properly and don't let people down. It's a brand new venture, it's cutting edge technology, it's cutting edge farming practice, and people have been immensely understanding.
'If we look back in two years' time or three years or five years, people will say this was the start of a really new way of aquaculture, and we hope to be at the forefront of it.'