Plan unveiled for 5,000 tonne salmon farm in Grimsby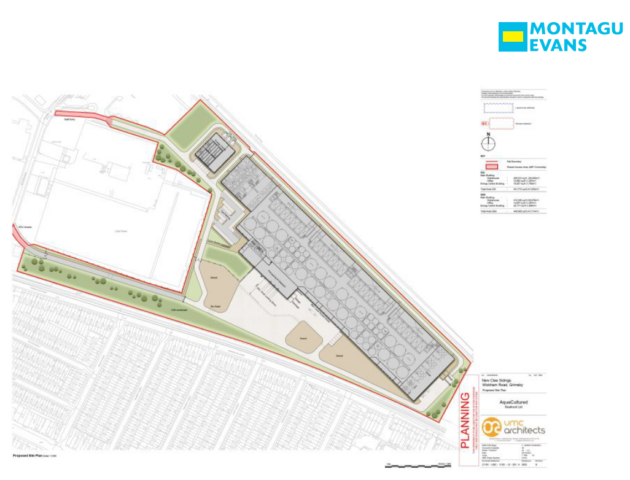 Grimsby, once home to the world's largest fishing fleet, could be about to go into the salmon farming business.
A London-based company, Aquacultured Seafood, has submitted a screening application to the local authority as the first stage in seeking permission to build a 5,000 tonne RAS salmon facility, to include a processing factory, on former dockside railway sidings. The proposed site is about 400 yards from Blundell Park, the home ground of Grimsby Town Football Club.
The plant would occupy around 40,000 square metres. The proposed development includes a marine recirculating aquaculture system ("RAS") with both freshwater and saltwater tanks. The larger saltwater tanks would enable the salmon to grow to 4-5kg in size. The facility would also house associated systems such as a water treatment plant, a fish processing line and a feed storage unit.
Its freshwater would come from the boreholes that already supply the Associated British Ports (ABP) infrastructure in the port of Grimsby, while saltwater would be drawn from a new borehole providing saline groundwater from underlying chalk and/or limestone aquifers.
The company says that up to 1,000m3/day of effluent will be generated from the aquaculture process, adding that this will be treated to a very high standard, using the best quality water filtration technologies developed by Israeli-based RAS specialist AquaMaof.
The projected investment total is around £75m and, if approved, it could create many  jobs, particularly  in processing. Despite losing its 300-strong fishing fleet in the 1970s, when countries were granted 200 mile fishing limits, the town still boasts the country's largest seafood processing hub. However, most of the aquaculture expertise would have to be brought in from outside the area, probably Scotland which is home to the UK's salmon farming industry.
The project would propel Grimsby, which lost its fishing fleet in the 1970s, into the potentially prosperous world of aquaculture for the first time.
Anderson returns to aquaculture?
So far, little is publicly  known about Aquacultured Seafoods except that it was incorporated in September 2020.
But records at Companies House show that former Scottish Salmon Company CEO Craig Anderson joined the company as "a person with significant control" last November. Anderson resigned from SSC in 2019 when Bakkafrost took control of the company. He also sold his shares, worth more than £1m, to Bakkafrost.
Another director is Michael Berthet, Managing Director of consultants Aquaesea Limited and a board member of the Global Aquaculture Alliance.
Anderson is still resident in Scotland, but most of the other directors and main shareholders  live around London and South East England.
The enquiry was submitted by Montagu Evans, a London firm of chartered surveyors, in early December. The firm is seeking a screening opinion on the development of land  formerly known as New Clee Sidings on Salvesen Road.
The site is very close to the Grimsby Seafood Village, which includes several  seafood production plants including those of Young's, and large cold stores.
Local opposition looks likely
Montagu Evans has asked the local authority to determine whether the project requires an environmental impact assessment.
However, the proposal could  run into opposition from residents living on the other side of the main Grimsby to Cleethorpes railway line who have protested against cold store and other developments in the past.
Arch anti-fish farm campaigner Don Staniford travelled  to Grimsby at the weekend to protest against the project, claiming that it "had inspired a community backlash by brave residents" who, he says, have formed a protest group.
Those opposing the project say that it would present a nuisance for the neighbouring households and remove an area which has become a haven for wildlife including birds and deer, as well as being too close to the Humber Estuary to the north, which is designated as a RAMSAR Site, Site of Special Scientific Interest ("SSSI"), Special Area of Conservation ("SAC") and Special Protection Area ("SPA").