Oyster farm set up on Humber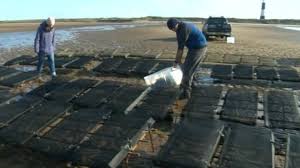 AQUACULTURE has come to the Humber, once home to Britain's largest deep sea fishing fleet, in the shape of a new oyster farm.
More than 10,000 oysters from a Scottish sea loch are being relocated to mudflats near Spurn Point on the estuary. However, it is likely to be a long time before there is any commercial activity.
The farm is part of a plan that marine biologists hope will initially start to improve marine life in the area.
Oysters have a filtering, or cleansing, effect on water and it is hoped they will also help to increase fish life.
The estuary, which separates East Yorkshire (Hull) and Lincolnshire (Grimsby), was once home to a thriving oyster industry, but it died out several decades ago due to overfishing.
The oysters have been brought in stages from Loch Ryan, near Stranraer on the west coast of Scotland.
Dr Dan Cowing, of the Humber Aquaculture Partnership, said: 'We've learnt a lot within those initial months, where best to put them and we are really happy with the survival rate.'
The project is being studied by marine biologists from the University of Hull and the Yorkshire Wildlife Trust.
Environmental marine scientist Dr Magnus Johnson, from the university, said: 'If we can have native oysters back in the Humber again, wouldn't that be wonderful?
'At the moment Spurn is beautiful but on the inside it's just a sandy beach, that's about all there is there. It would be lovely to see the Humber go back to being something that it was 200 years ago before industrialisation.'