Oslo to face legal action over new salmon map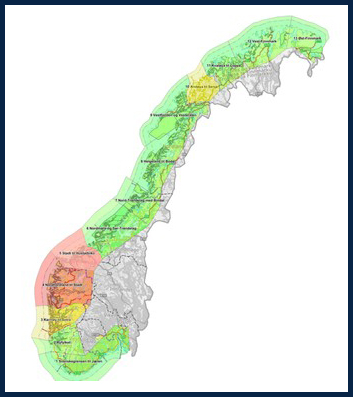 THE Norwegian government is expected to face legal challenges to its new salmon farming traffic light scheme from companies caught up in the red zones, it has emerged.
Up to 140 businesses in the two red areas will be forced to cut back on production by up to six per cent or around 9,000 tonnes.
Oslo has said it is bringing in the measures because of the lice threat to salmon stocks. But it is emphasising that large parts of Norway have been placed in green or growth areas which will lead to a net increase in production of around 23,000 tonnes.
However, a number of companies are far from happy and are reported to be consulting lawyers.
And the business journal and website Finansavisen.no predicts there are going to be winners and losers among the larger companies.
Grieg and Lerøy are likely to benefit the most because the bulk of their operations are in the green zones.
SalMar and Mowi, which have 17 and 20 per cent of production respectively in the red areas, are likely to take the biggest hit.
With the exception of Norway Royal Salmon, aquaculture share prices fell on the Oslo Stock Exchange yesterday after fisheries minister Geir-Inge Sivertsen unveiled the final traffic light map.
Reaction has been mixed, with environmental and sports fishing groups saying the proposals have not gone far enough.
But some lawyers are saying that the government has a duty to send the new regulations to businesses for consultation before they can be implemented.
The employers' organisation Seafood Norway has said it regrets the proposals, describing some of them as unfair.
Ola Braanaas, founder and CEO of the family owned salmon and trout farmer Firda Seafood, described the red zone plan as 'collective punishment' and told the journal Dagens Næringsliv that he planned to take a close look at the legal basis for including every business in the red zones.