Organic, and now by Royal Appointment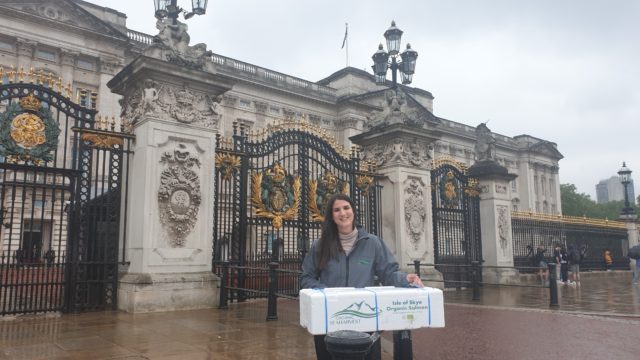 Skye smoked salmon fillets from Organic Sea Harvest's first commercial production round will be gracing royal dinner tables.
Organic Sea Harvest (OSH), Scotland's first major salmon farming start-up in decades, harvested its first fish on 2 June. Yesterday the smoked fillets were delivered to Buckingham Palace, where it is believed one has been earmarked for the Royal Household's kitchens while the other will be sent on to HRH Prince of Wales at Clarence House.
The fillets were prepared by royal warrant holders Severn and Wye Smokery. The warrant is a mark of recognition for people or companies who have regularly supplied goods or services to the HM The Queen, HRH The Duke of Edinburgh, HRH The Prince of Wales or their households.
Hugh Drever, Managing Director of OSH sales commented: "We are delighted to announce our successful first harvest took place earlier this month.
"Organic Sea Harvest is committed to producing salmon using sustainable organic methods and this is a major step in our aim of becoming the world's leading supplier of organic salmon. Our organic principles are a key part in creating a delicious world class product.
"Skye is known for its natural larder and top-quality seafood and we are delighted at the prospect of sharing it with the Royal Household."
Both of OSH's sites are certified as organic by the Soil Association.