Offshore mussels thrive with bespoke floats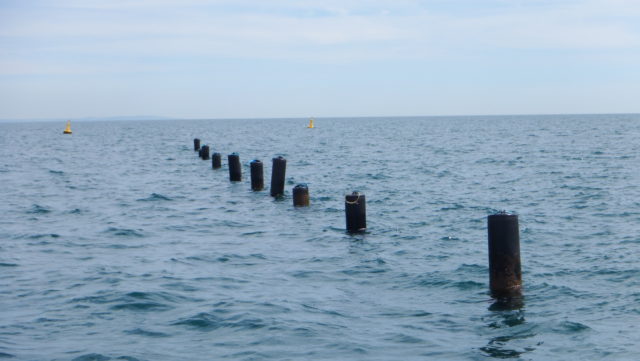 A NEW mussel farm flotation system for use in exposed sea sites is now in successful operation and already helping to produce high quality, fast growing mussels.
Jointly developed by Offshore Shellfish (OSL) and Fusion Marine, the system has been put to use at OSL's farm in Lyme Bay.
It is the first company in Europe to install a large scale, rope grown mussel farm in fully offshore conditions.
Situated between three to six miles off the coast of South Devon, one of the key challenges for the farm was to develop a flotation system that could cope with the rigours of severe winter storms.
With this mind, OSL managing director John Holmyard came up with an initial float design concept working in a vertical position, as opposed to the traditional horizontal-axis barrel floats normally used to suspend mussel ropes.
He then sought the help of Fusion Marine to refine his ideas and turn them into reality.
Holmyard said: 'We had worked with Fusion Marine before and trusted them to translate our ideas into a durable float of a specific shape and size that would ride the waves and reduce movement on the mussel lines ensuring that the crop does not fall off.'
Manufactured from high density polyethylene (HDPE), the 250 litre floats feature an injection moulded end – with robust connections that are butt fused on to a length of large diameter HDPE pipe to create the float.
This creates a set of strong rope connection points that allow secure and standardised attachment of the float to the headlines.
By working in the vertical axis, the floats exhibit a more gentle motion than is experienced with barrel floats, as waves pass over the headlines.
The robustness of the floats means they can be allowed to submerge if required, which ensures that extreme forces aren't transferred to the ropes, thereby preventing mussels from becoming dislodged.
The end result is better growing conditions and increased harvests, as well as protection of the overall integrity of the farm.
'During extensive trials, we have been thrilled with the performance of the flotation system, which has enabled the farm to produce a crop of high quality, fast growing mussels that are in great demand,' said Holmyard.
'Initially, the floats were not the simplest to use, but we have been learning how they work during two years of trial and sometimes error, and have now perfected the design and the way we use them.
'These floats now do exactly the job they were designed to do, and are doing it very well.  I don't believe the farm would have survived the past two winters' storms without them.'
Rhuaraidh Edwards, technical sales engineer for Fusion Marine, said: 'We have worked closely with OSL to develop this robust and versatile flotation system for demanding offshore sites.
'The floats have a unique spliced loop attachment system, which ensures that each rope can be quickly and easily attached in the same way and at the same depth, with no knots to tie and nothing to work loose.
'This, combined with the vertical axis design, ensures the farm can cope with harsh offshore sea conditions.
'Throughout the development process we have been impressed by John Holmyard's pioneering spirit for new aquaculture innovation and we continue to work closely with him to further develop the offshore float for his exciting but very demanding venture.'
Holmyard added: 'Everything we use has been adapted or specially built, including our bespoke flotation sstem, and all the equipment is designed to work well together to ensure the mussels are provided with the optimum environment to promote growth.'
The offshore mussel farm is currently in its build-out phase with 700 floats supplied already. Completion will be in four years' time, when it is expected to produce up to 10,000 tonnes of mussels per year.