Ocean Infinity signs major robot deal with Saab Seaeye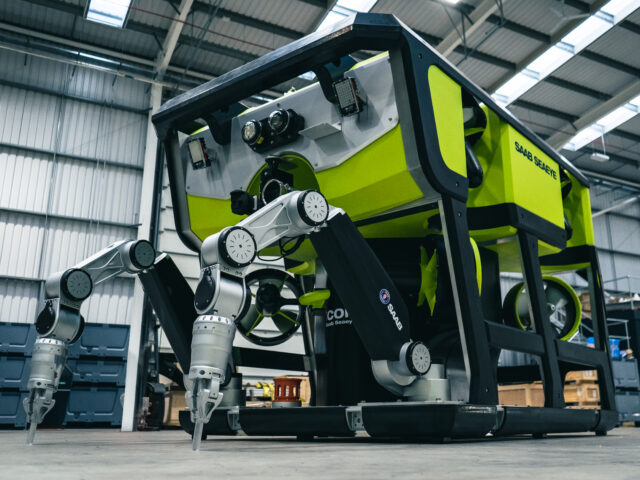 SAAB Seaeye, a British based company building underwater remotely operated vessels, has signed a potentially ground-breaking deal to sell 10 of its latest eWROV vehicles to the marine robotics company Ocean Infinity.
The new eWROV product, is the world's most capable and intelligent all-electric, work-class underwater robot, that will be built at Saab Seaeye's facility in Fareham, Hampshire that lies within the Solent Freeport.
The eWROV is the latest addition to Saab Seaeye's world leading underwater portfolio used across a variety of offshore energy sectors, ocean science and defence.
It is the culmination of four years of research and development, resulting in a larger and more powerful ROV compared to those designed for light work and observation tasks.
Ocean Infinity is developing the world's largest fleet of remote controlled robotic vessels – the Armada – and will be the eWROV's launch customer. No financial details on the transaction were disclosed.
Saab Seaeye said: "The eWROV will play its part in Ocean Infinity's mission to use innovative technology to transform operations at sea, enabling people and the planet to thrive. Armada is set to revolutionize the maritime industry, delivering sustainable services that offer up to 90% emissions savings over a conventional vessel performing a similar offshore task."
Most important, eWROV benefits from Saab Seaeye's iCON™ intelligent system architecture, making it capable of fully autonomous operation.
Thanks to the deal and further future contracts is adding a further 3,236 square metres (70% expansion) to its Fareham site and is currently recruiting.
Magnus Lewis-Olsson, chairman of Saab UK, said: " "Ocean Infinity's order is the largest in Saab Seaeye's history and highlights the need for intelligent, adaptable and flexible underwater robotics.
"The eWROV is more efficient and cleaner than the hydraulic alternatives and it also requires less human involvement and will play an important role in future autonomous vessel fleets. We are confident the eWROV will serve Ocean Infinity well."
Dan Hook, Chief Technology Officer at Ocean Infinity said: "Lessening the environmental impact of operations at sea is the main driver behind the development of Armada.
"The all-electric eWROV, in addition to our already low-emission vessels, will enable us to support our customers with infrastructure integrity projects in the most environmentally responsible way."
He added: "The eWROVs will form an important part of our Armada architecture; through integration with our dynamic payload controller, we'll be able to deploy and operate them anywhere in the world from our Remote Control Centres."