Ocean Ark 'super farm' moves ahead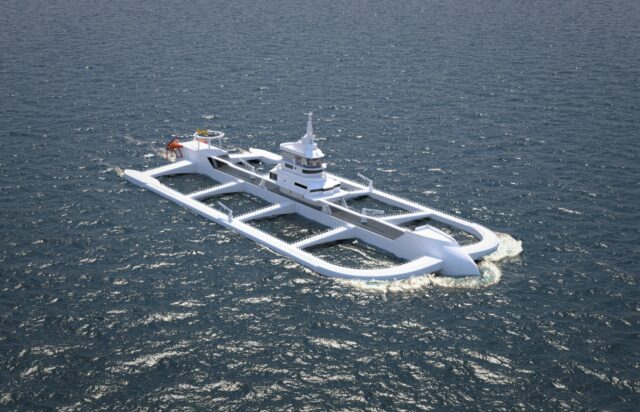 Plans for a massive fish farming vessel – the Ocean Ark – have received approval in principle from RINA, the marine classification society.
The go-head means the order to build this impressive looking concept in offshore salmon farming has moved up several gears.
Looking like an aircraft carrier without the flight deck, it has been developed by Ocean Ark Tech of Chile (also known as OATECH) and is likely to be positioned off that country. OATECH also has a UK-based strategic ally called Ocean Sovereign.
The developers, who have won national awards for their project, say Ocean Ark is set to revolutionise the industry by dramatically improving fish health, crew comfort and the industry's image.
By deploying Ocean Ark far from costly and often devastating events such as heatwaves, storms and algae blooms, the deveopers hope it will be able to produce higher quality fish.
OATECH founder Rodrigo Sanchez Raccaro, who has considerable experience in salmon farming, said: "We have applied all our knowledge and experience in the design, engineering and development of this farming Ark Superyacht, including the dynamic and static modelling that test wave resistance.
"The ships offer a solid business plan for fish production. This Superyacht Fish farm was designed to operate offshore, where the best conditions are met for the fish. This technology allows low-density production of healthier, higher-quality fish at lower costs than the offshore, land-based and coastal aquaculture systems now available."
The vessel is a self-propelled low emission trimaran 170 metres long and 64 metres wide. Artificial intelligence and self-cleaning fish cages of copper help secure fish health and welfare.
It will have a biomass capacity of 4,000 tonnes. The developers say it can produce higher quality fish at lower costs than current offshore or land and open net fish farms.
A memorandum of understanding (MOU ) to build the vessel have been signed with shipyards in Turkey and China, but so far there is no indication as to when the order will be given.
"This is an unusual vessel," said Patrizio Di Francesco, RINA Marine Principal Engineer for Northwest Europe.
"It presents a milestone for both the fish farming industry and for the classification of unconventional ships. It is an innovative approach to the sustainable harvesting of fish to help secure food security and sovereignty and one which may revolutionise fish farming for the future."