Nutreco, Holmøy to invest in Andfjord Salmon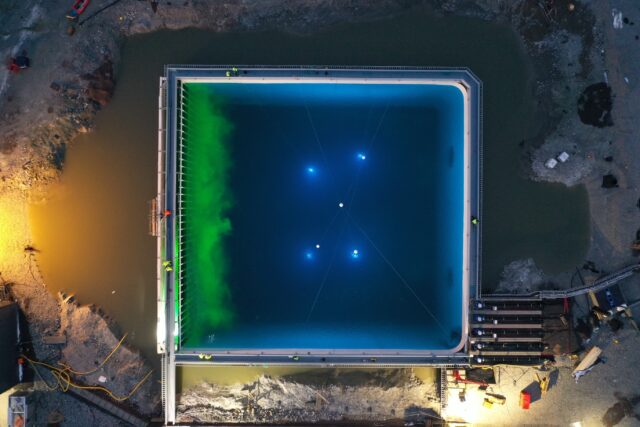 Multinational feed giant Nutreco and Norwegian seafood group Holmøy are investing in land-based fish farmer Andfjord Salmon. The deal is part of a NOK 38m (£3.1m) private placement for Andfjord.
As part of the deal, Andfjord has also entered into a feed supply arrangement with Nutreco's aquaculture subsidiary, Skretting. Skretting's experts will also participate in a technical advisory committee, which will provide advice to Andfjord Salmon's production protocols and regularly evaluate production KPIs (key performance indicators) with the objective of further improving conditions for the fish.
"Nutreco is a highly reputable player in the aquaculture space, investing in the industry, with Skretting supplying world-leading feed and services to aquaculture producers all over the world. Holmøy is a highly respected Norwegian seafood group with strong local connection to Andfjord Salmon. We are delighted to enter into these agreements, which will bring on board two strategic investors to Andfjord Salmon and secure supply of our preferred feed," says Martin Rasmussen, CEO of Andfjord Salmon.
Located at Kvalnes on the island of Andøya on the Arctic archipelago of Vesterålen, Norway, Andfjord Salmon has developed an innovative and sustainable aquaculture concept for land-based farming of Atlantic salmon, based on a flow-through technology solution. The company's ambition is to build the world's most sustainable aquaculture facility of its kind.
Erik Tveteraas, Investment Director at Nutreco, commented: "At Nutreco we are committed to our purpose of Feeding the Future. Our investment in Andfjord Salmon fully supports our ambitions to provide solutions to a dynamic and important sector that is essential to ensure that aquaculture continues to meet the seafood needs of our growing global population in a sustainable way."
Holmøy is a seafood group based in Vesterålen, North Norway. It is one of Norway's largest players within whitefish and salmon. The group's main activities are operation of trawlers through Prestfjord AS; ocean-based fish farming through Eidsfjord Sjøfarm AS, which has an annual production of 20,000 tonnes Atlantic salmon; and Holmøy Fryseterminal, which offers cold storage of fish and other services. Holmøy group will invest in Andfjord Salmon through its fish farming company Eidsfjord Sjøfarm AS, which already owns 66,400 shares in Andfjord Salmon.
Knut Roar Holmøy, CEO of the Holmøy group and a member of Andfjord Salmon's board of directors, said: "Fish is our area of expertise, and we are dedicated to developing new technologies and production methods. Investing in Andfjord Salmon is therefore a natural commitment to an industry we are passionate about and where both companies are strongly connected to Vesterålen and North-Norway. We also hope that this investment can stimulate discussions about further cooperation opportunities between the Holmøy group and Andfjord Salmon."
Nutreco will invest NOK 20 million (£1.6m) in Andfjord Salmon, while Eidsfjord Sjøfarm will invest NOK 8 million (£655,000). Under the agreement, Andfjord Salmon will issue, and Nutreco and Eidsfjord Sjøfarm will, respectively, subscribe for 505,050 and 202,020 new shares in Andfjord Salmon through a directed private placement. In addition, Andfjord Salmon's founder and board member Roy Bernt Pettersen will contribute a further NOK 10 million (£819,000) in new equity, by subscribing for 252,525 new shares in the private placement.
Last December, Andfjord announced that tests of its laminar flow technology showed that its innovative flow-through system was able to create a good environment for rearing salmon. The company aims to release its first smolt during the second quarter of this year.