NTS wins bidding war for SalmoNor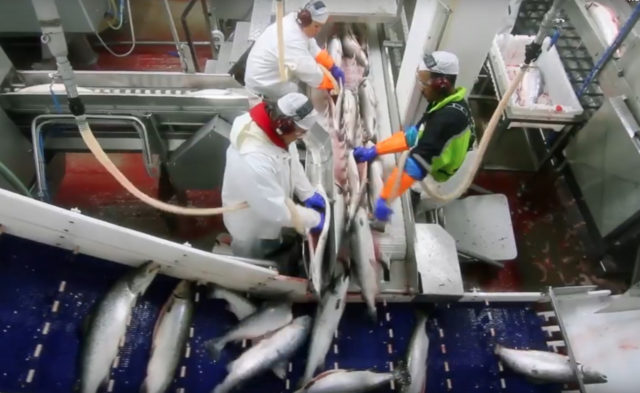 Seafood giant NTS ASA has beaten rivals Mowi and SalMar in the contest to acquire Norwegian salmon farming business SalmoNor AS. NTS plans to merge SalmoNor with its wholly-owned fish farming subsidiary, Midt-Norsk Havbruk (MNH).
The deal brings together two of the earliest pioneers in Norway's aquaculture sector. Both SalmoNor and MNH can trace their origins back to two of the earliest fish farming licence holders, 50 years ago, on Norway's Namdal coast. The merged business will have an annual production of 37,000 tonnes and employ 120 people. It will trade as SalmoNor, so it appears that the deal will mean the end of the MNH brand.
The transaction, announced today, follows a competitive bidding process in which SalMar and Mowi also took part. The deal values SalmoNor at almost NOK three billion (£255m)  after payment of NOK 380 million (£33m) in dividends to the shareholders in SalmoNor before the merger. NOK 100 million of the consideration is conditional on the achievement of some predetermined milestones.
The shareholders in SalmoNor receive 20 per cent of the settlement in cash, consisting of NOK 495 million in fixed remuneration and NOK 100 million in additional remuneration. The shareholding (remaining 80 per cent) corresponds to 26.44 million shares in NTS at a price of NOK 90. The consideration shares will consist of a combination of own shares in NTS, new shares issued by NTS and shares repurchased from existing shareholders.
The merger agreement entered into must be approved by the Norwegian Competition Authority and NTS says it is expected that the transaction can be completed by the end of the third quarter of 2021.
Like MNH, SalmoNor is a fully integrated salmon farmer, with control of the entire value chain from hatchery to slaughterhouse. SalmoNor also has its own exhibition license in Nærøysund in collaboration with the Norwegian Coastal Museum in Rørvik. SalmoNor and MNH together own approximately 74% of the shares in one of Norway's most modern slaughterhouses, SalmoSea AS, on Flerengstranda.
SalmoNor's general manager Vibecke Bondø said: "The merger of two strong and competent aquaculture companies such as SalmoNor and MNH will be a good industrial solution that triggers significant synergies. The merged company will build on the employees who are in the company today, and contribute to a further development of competence and jobs. For us, this is about facilitating further sustainable growth and new jobs on the coast. We also want in the future to be a clear social actor that contributes to building viable local communities."
NTS CEO Harry Bøe also commented: "This strengthens NTS's position as a central Norwegian aquaculture group. The merged company will be a significant player and employer in Nærøysund municipality, and gives new impetus to healthy and sustainable aquaculture growth."
Salmonor is based in Rørvik in Trondelag, in south central Norway, where it employs more than 50 people and generates some £50m in sales from 14,000 tonnes of salmon.
The company has seven food fish permits, one display permit, two R&D permits and its own hatchery.
It says it has always had a strong focus on the environment and environmentally friendly operations, believing "that a good environment for fish will also provide healthy food, secure jobs and profitable operations."
Working with the local museum, the site is also popular with tourists as home to a viewing centre  which tells the story of the aquaculture industry.
Operations include quality salmon production at five locations which it claims to be among the best in the country. Its hatchery and  ancillary smolt production activities make itself sufficient in smolt.  It also conducts preventive fish health work in collaboration with a veterinarian.