NRS to invest £20m expanding Iceland smolt plant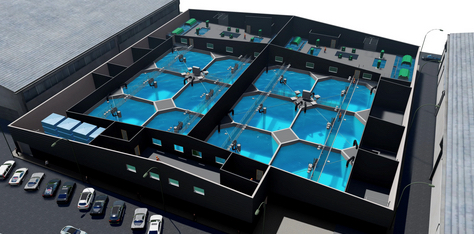 Norway Royal Salmon is planning to invest around £20m on expanding its smolt plant in Tálknafjördur, Iceland.
The company has entered into two separate agreements worth a total of €24m through its Arctic Fish subsidiary known as Arctic Smolt which is based in the Westfjords. The project is thought to be one of the largest investments in the Westfjords, which is Iceland's largest salmon farming region.
The first contract is with Eykt ehf, an Icelandic construction company which will design and construct the buildings, and another contract with Eyvi AS, an international supplier of RAS turnkey facilities.
Eyvi will design, deliver and install a comprehensive solution including a RAS water recirculation system, piping and auxiliary systems for production.This means the water can be recycled and purified to ensure water quality and high smolt welfare. A reserve power station is also included in the project.
The plant will add an extra 4,200 metres of floor space and include 7,200 cubic metres of tank capacity.The current capacity is 10,000 square metres of floor space and 6,300 cubic metres of tank capacity.
A backup power station is also a part of the project. Three 1.4 MW generators will be delivered and installed by Aflhlutir ehf. The Faroese aquaculture consultancy SMJ Aqua advised Arctic Fish during the preliminary design and tender phase.
Ragna Helgadóttir, project manager for Arctic Fish, said: "We are very pleased to have Eyvi and Eykt on board and to get this project underway on site."
Once a building permit has been granted, construction will begin shortly and take about two years to complete employing up to 50 people.
Arctic Fish's parent company, Norway Royal Salmon, became part of the NTS group following a fierce takeover battle last week.