NRS profits drop despite higher revenues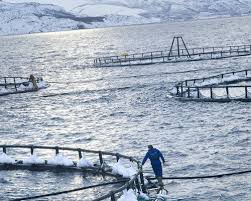 DESPITE a near seven per cent increase in operating revenues for the first quarter of 2019, the fish farmer Norway Royal Salmon took a big knock on its operating profits or EBIT, its figures show today.
Revenue rose from NOK 1,391.8 million a year ago to NOK 1,486 million this year, an increase of 6.8 per cent, thanks mainly to higher prices.
But the group saw its operational EBIT fall from NOK 192.7 million (£17.3 million) in 2018 to NOK 164.3 million (£14.7 million) this year, a drop of NOK 28.4 million or around 15 per cent.
The decline, said NRS, was largely due to lower harvested volumes.
'The first quarter was challenging for the NRS' sales operations, with low margins contributing negatively to the profitability in the quarter,' the company said.
'The sales volume was 1.3 per cent higher than in the same quarter last year, while 71 per cent of the harvested fish was sold on the spot market and 29 per cent sold at fixed prices.
'The fixed price contracts resulted in a gain of NOK 2.1 million compared to the level of spot prices.
'The sales volumes to Asia increased by 34 per cent and the volumes sold in Norway increased by 24 per cent in the quarter.'
NRS said the export volumes to west and east Europe decreased by six and three per cent respectively.
But west Europe is still its biggest market, accounting for 72 per cent of export volumes. Asia accounts for 21 per cent.
The farming business harvested 8,096 tonnes (10,935 tonnes) gutted weight in the quarter, a decrease of 26 per cent on a year ago.
NRS said European demand remained strong and demand in Asia was developing well.