NRS offshore project moves up a gear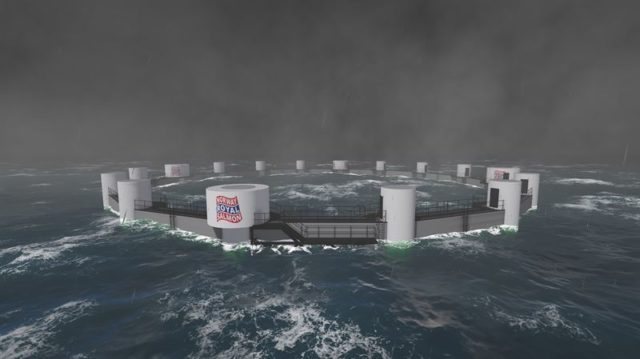 Norway Royal Salmon says the first sea cage in its Arctic Offshore Farming project is now in place at its location north of Tromsø.
The large cages are designed to operate in more exposed areas, and can withstand a wave height of up to 13 metres. The cage weighs around 3,000 tone and a  second cage will eventually be taken to the site .
The project was designed by Aker Solutions which delivers a wide range of products and services to the global energy and marine related industries.
NRS describes the project as "Salmon Farming of the Future" using ground breaking technology. Arctic Offshore Farming is a semi-submersible offshore fish farm that is specially built for hard weather areas. NRS says the concept is thus able to provide access to waters further from the coast.
NRS Executive Vice President Klaus Hatlebrekke  told the Norwegian regional news site Nordlys: "Through innovation and a willingness to invest in the weather-exposed areas in northern Norway, we have developed the next step for salmon farming.
"This will enable the use of more weather-exposed locations than is possible with current technology."
The facility will consist of two cages. Each cage is 80 metres in diameter and 22 metres high. Together, the two cages will hold around 1.2 million salmon.
CEO Charles Høstlund  said recently: "Offshore aquaculture will give us the opportunity to use new areas and thus help create sustainable growth for the Norwegian aquaculture industry. Through this, Norway will contribute to realizing FAO's (UN) ambitious goals for growth in aquaculture globally."