Now Samherji bids for big shipping line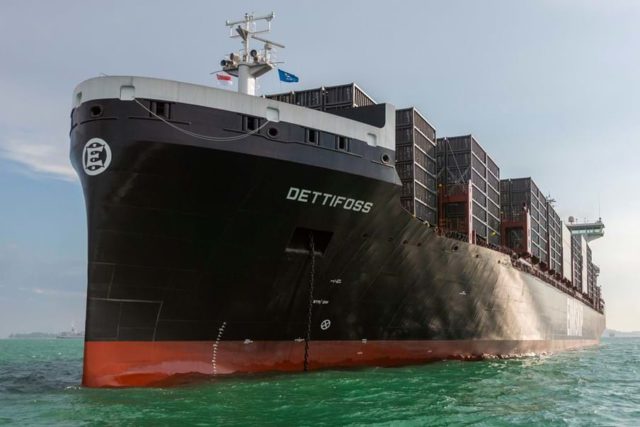 Samherji, one of Europe's leading seafood businesses, has increased its stake in shipping and logistics company Eimskip, with a view to making an eventual takeover bid.
The news has emerged in the same week that Samherji announced it had acquired a 50 per cent stake in Boston-based seafood supplier Aquanor Marketing Inc.
Eimskip is a major shipper of frozen and chilled seafood throughout Europe and the Nordic region
Samherji Holding ehf, a company affiliated with the Samherji Group, now owns a more than 30 percent share in Eimskip and said the company will make a takeover offer to all Eimskip's shareholders. It stressed the aim was not to delist Eimskip from Iceland's stock exchange. According to Iceland's Act on Securities Transactions, Samherji Holding is obliged to make a takeover bid to other shareholders of Eimskip within four weeks.
Samherji's move took place in March of this year, but the company was granted an exemption from the requirement to make a takeover offer to Eimskip's shareholders because of the disruption caused by the Covid-19 pandemic.
Samherji CEO Thorstein Mar Baldvinsson said: "Eimskip is majority owned by Icelandic pension funds, which together hold more than half of the share capital.
"Samherji Holding considers Eimskip to be well suited to remain listed on the public stock market and the management of Samherji Holding hopes to continue to have good cooperation with other Eimskip shareholders."
Eimskip is one of the Nordic region's largest – and oldest – shipping operations. Founded in 1914, it has offices in 19 countries and provides regular sailings to Europe, including Scottish ports and Grimsby and Immingham on the Humber. It also specialises in temperature controlled chilled and frozen seafood.
This latest development comes just days after Samherji said it is planning to expand its aquaculture business by setting up a salmon farm on a former aluminium smelting plant in Iceland.