Norwegian whitefish prices and exports up again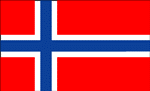 EXPORTS of popular white fish such as cod, haddock and saithe from Norway are so far this year running 12 per cent up, according to the latest figures.
The total value for the first nine months of 2015 is NOK 9.5 billion even though volumes were 14 per cent down, primarily due to lower sales of whole frozen cod. Nevertheless the figures are highly encouraging.
The September whitefish export total was NOK 1.12 billion with the volume down by 18 per cent.
Analyst Ove Johansen from the Norwegian Seafood Council said: 'The price of codfish has increased in all markets, aided by a weak kroner.
'This consolidates Portugal's position as the most important single market for cod, both in clipfish and salted fish varieties. This is best year ever so far for sales to the Portuguese market.'
Norwegian clipfish sales for the first nine months of 2015 are worth NOK 2.8 billion, an increase of NOK 419 million or 17 per cent.  The average price increases for all clipfish is 30 per cent.
Portugal, despite austerity, also remains the dominant market for saltfish. So far this year Norway has exported salted fish, both whole and fillet to a value of NOK 958 million, up by 25 per cent
Sales of fresh groundfish products increased by 19 per cent to NOK 2.28 billion and the average prices rose by 26 per cent during the period.
So far this year, exports of fresh whole Norwegian cod totalled NOK 1.33 billion. This is an increase of NOK 277 million compared with the same period in 2014. Prices have increased by an average of 37 per cent.
Year-to-date exports of fresh fillets have increased by NOK 46 million to total NOK 385 million. Exports of fresh cod fillets have increased by NOK 25 million to NOK 305 million, while exports of fresh haddock fillets have increased from NOK 49 million to NOK 67 million kroner.
In addition, exports of fresh fillets of saithe gone up from NOK 7.7 to a new total of NOK 11.4 million.
Frozen products fell in volume terms. Norway has exported frozen groundfish products worth NOK 3 billion so far this year. This is an increase of NOK 34 million compared with the same period last year. Export volumes reduced by 22 per cent, while the average price has increased by 30 per cent year-on-year.
Whole fish worth NOK 2.36 billion has been exported so far this year. This represents a decline of NOK 27 million compared with the same period last year.
Frozen whole cod decreased from NOK 1.08 billion to NOK 899 million. Frozen whole saithe increased by NOK 189 million to NOK 288 million kroner, while frozen whole haddock export values were reduced from NOK 636 million to NOK 428 million.
Frozen whole Greenland halibut increased from NOK 288 million to NOK 474 million and redfish increased from NOK 124 million to NOK 190 million so far this year compared with the same period last year.
The price of frozen fillets has increased by 28 per cent, with sales rising from NOK 554 million to NOK 622 million.