Norwegian whitefish exports up 28 per cent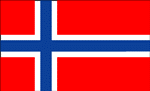 DEMAND for Norwegian white fish (cod, haddock, saithe and so on) continued its upward  trend  last month with overall exports increasing by 28 per cent, the latest official figures show.
In fact, overall exports of all types of Norwegian seafood, including farmed salmon and trout, rose by broadly the same amount.
The Norwegian Seafood Council's spokesman Ove Johansen said: 'There was a better start to the winter fishery this year compared with the same time last year, along with better prices and higher volumes. This is the best month on record for fresh fish.'
The total export value of all fresh cod fish products in February totalled NOK 543 million in February. The increase was 66 per cent or NOK 216 million more than in February 2015. Exports increased in volume terms by 73 per cent.
Sales of the specialist high quality skrei cod amounted to NOK 75.4 million, 73 per cent or NOK 32 million more than in February 2015. Volumes rose from 1,390 tonnes to 2, 115 tonnes, up by 52 per cent.  The even more encouraging news is that the price increased by 20 per cent to NOK 48.73 per kg on average.
Fresh whole cod increased by 60 per cent or NOK 108 million to NOK 288 million in total. The quantity increased by 3,033 tonnes to 10,160 tonnes. Fresh whole saithe increased from 359 tonnes to 1535 tonnes, up 323 per cent.
Exports of fresh fillets amounted to NOK 84 million, 40 per cent above February last year. Fresh cod fillets went up by NOK 9.1 million to NOK 60.4 million. Fresh haddock fillets increased from NOK 8 million to NOK 20.1 million.
About half of the fresh fish from Norway goes to Denmark before it is distributed across Europe, but there was also good growth in export value to Poland (142 per cent), Spain (82 per cent) and France (44 per cent).
It was also a good month for frozen cod with sales up by 44 per cent to NOK 117 million to NOK 385 million. China remains the largest market for frozen cod where sales increased from NOK 73 million to NOK 113.8 million.
The Norwegian Seafood Council reported increased sales of both salted and dried cod, too, during February.