Norwegian exports defy coronavirus onslaught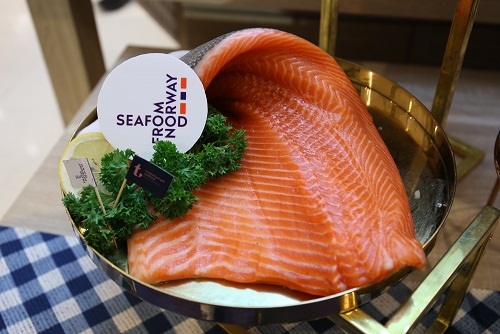 REMARKABLY, Norway saw its salmon exports increase last month despite the ravages to trade caused by the coronavirus pandemic.
Its fish farmers exported 85,800 tonnes of salmon worth NOK 6.1 billion (£473 million) in March. This is an increase in volume of four per cent, while the value increased by NOK 103 million, or two per cent, on March last year.
And in the first three months of this year, 252,000 tonnes of salmon were exported, worth NOK 18.5 billion (£1.43 billion), a volume rise of two per cent and a value increase of 11 per cent. Poland, France and the US were the main markets.
Analyst Paul Aandahl at the Norwegian Seafood Council, said: 'Despite increased logistical challenges and reduced restaurant consumption, the proportion of salmon exports to Asia represents 17 per cent of the total.
'This is the same proportion as in March 2019. The relatively strong exports are due to increased domestic consumption of salmon, either in the form of takeaway, in online channels or in the retail trade.
'As for the Chinese market, there was a gradually increased demand in March, and in week thirteen, 517 tonnes of fresh salmon were exported from Norway to China.'
Victoria Braathen, the Seafood Council's fisheries envoy to China, added: 'The first quarter figures confirm the trend of a gradual return in demand for fresh products in China, while we also see further good development for frozen products.
'Overall, Norwegian seafood exports to China saw a 12 per cent decline in value and volume this year. This export trend is in line with expected market development, as China is gradually moving towards a normalisation.'
Egil Ove Sundheim, the Seafood Council's fisheries envoy to the US, said the United States was a market that is highly dependent on seafood imports, so the severe air traffic restrictions over the last month have been dramatic and had created great uncertainty.
He added: 'Coronavirus has caused a large part of the American restaurant sector to shut down. As a consequence of these conditions, exports of, for example, fresh whole salmon have more or less stopped completely.
'This is happening at a very unfortunate time, since we are now in the fast [Lent] which is traditionally a very good period for seafood turnover in the restaurant sector.'
Farmed trout exports also rose last month – totalling 5,100 tonnes and worth NOK 316 million, up by 46 per cent in volume and 20 per cent in value.
Total Norwegian seafood exports, including white fish and pelagics, came to 213,000 tonnes and were worth a total of NOK 9.6 billion (£744 million), a value  rise of four per cent.