Norway woos world restaurant elite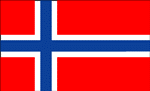 NORWAY is pulling out all the stops to ensure its seafood features strongly when the gastronomic elite from some of the world's finest restaurants meet in northern Spain later this month.
Chefs from across the globe will descend on the Euskalduna Palace in Bilbao on June 19 for the 50 Best Restaurants Awards. Seafood will feature prominently and the Norwegian Seafood Council is planning to bring and serve some of its finest shellfish products.
The 50 best restaurants contest ranked next to the Michelin guide and is considered to be the world's most important elite restaurant competition. The final list is developed from 27 regional panels consisting of 1,000 restaurant critics.
Synne Guldbrandsen, project manager at the Norwegian Seafood Council, said: 'We plan to serve and present Norwegian shellfish for the chefs, restaurant owners, food bloggers, journalists which we hope will help to lift the status of our raw materials to ever greater heights.'
The Seafood Council says it intends to serve different and exclusive shellfish dishes to more than 500 participants.