Norway whitefish exports record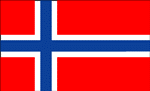 COD, haddock and other whitefish caught by the Norwegian fleet are producing record revenues, the latest data shows.
The country exported 249,000 tonnes of whitefish during the first six months of this year with a total value of NOK 8.1 billion – the highest figure yet, says the Norwegian Seafood Council.
Seafood Council analyst Ingrid Kristine Pettersen said China was now a growing market, especially in frozen fish.
'We have never exported so much frozen fish to China than during the first half of this year.'
The country exported 240,000 tonnes of fresh whitefish products to a value of NOK 7.7 billion during the period, representing a volume increase of seven per cent and a value increase of NOK 635 million, or nine per cent on 2016.
Fresh cod exports alone were worth NOK 1.8 billion, up by ten per cent on 2016. The volume was 54,000 tonnes, up by 4,000 tonnes.
Norway exported 94,000 tonnes of frozen whitefish products worth NOK 2.3 billion. This is a volume increase of seven per cent and a value increase of NOK 178 million or eight per cent, compared to the same period last year.
Some 39,000 tonnes of frozen cod, including fillets, were sold with a value of NOK 1.3 billion. The volume, however, was down by four per cent but the overall value remained at the same level as last year.
Salted fish exports, which mostly go to southern Europe and South America, reached 20,000 tonnes with a value of NOK 900 million, down by six per cent in volume and one per cent in value.