Norway investigates future markets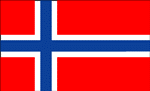 THE Norwegian Seafood Council has said it wants feedback from the industry about which export markets should be given future priority.
Based in Tromsø, the council is a state owned organisation run by the fisheries ministry, and has 12 offices overseas. It already works closely with the fishing and aquaculture sectors to develop markets for Norwegian seafood.
It has also strengthened its presence in Asia, most notably China, South Korea and Japan.
It said: 'We intend to increase the value of Norwegian seafood. We can do this by working systematically with market insight, market development, market preparedness and reputation in order to build selected countries around the world.
'In addition, we are continuously working on identifying opportunities for Norwegian seafood products in new as well as existing markets.
'At the Seafood Council we regularly review how our business is organised. We are now in a transition period where all parts of the business are evaluated to ensure the most efficient operation and appropriate structure for the future.'
The council, which has asked the industry for submissions by December 31, is currently financed through a statutory fee on all exports of Norwegian seafood.
It says the most important sectors are represented by their own advisory market groups on the council.
However, not every company is in agreement. Marine Harvest has submitted a legal challenge to the levy by taking the Oslo government to the EFTA court, arguing it could be interpreted by the European Union as state aid and that could pose a potential threat to its exports into Europe.