Norway hit by high number of ISA incidents in June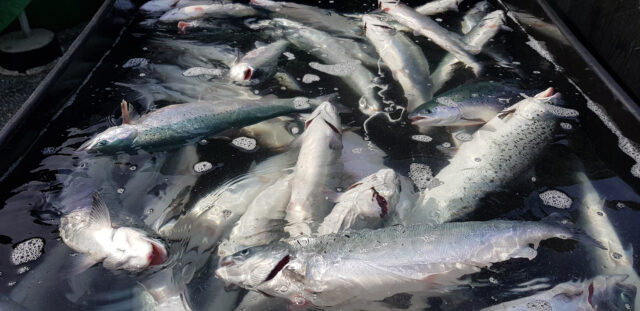 Grieg Seafood is reported to be preparing to slaughter thousands of fish after infectious salmon anaemia (ISA) was confirmed at one of its sites.
This is at least the sixth or seventh case of ISA or suspected ISA along the Norwegian coastline so far this month.
Incidents have been running at one every four to five days. So far the Norwegian Food Safety Authority has not commented on the figures, but the numbers appear to be higher than normal.
Most of the problems are either in Vestland county or Rogaland, which have become the two hardest hit regions.
In the Grieg case, the first indication of ISA came in mid-May at Hundaneset in the Hjelmeland region north of Stavanger.
The Åkerblå fish health service notified the Norwegian Food Safety Authority of findings compatible with ISA which have since been confirmed.
The fish, however, are of slaughter or near slaughter size, so the financial loss is not thought to be severe. ISA is not harmful to humans.
The first suspected outbreak in June occurred at the beginning of the month in Vestland County, where three companies farm in the area. The disease was later confirmed at two of those locations.
Then Mowi reported problems at its Vestland farm at Trommo in Kvinnherad municipality following analysis carried out by the firm PatoGen.
A week or two later the Åkerblå fish health service notified the Norwegian Food Safety Authority of suspected outbreaks at Tysnes municipality, again in Vestland where four smaller firms have operations.
In other incidents ISA is suspected at Skorpo in Vestland where four firms operate, and at Hidlekjerringa in Strand municipality where Seashore Sjo has a site.
The most recent suspected case came on Wednesday this week at Øygarden municipality in Vestland county, where Erko Seafood, Blom Fish Farming and Landøy Fish Farming are based.