Norway and China in free trade talks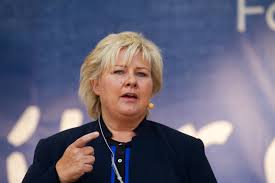 CHINA and Norway have got down to serious negotiations that should at last set the salmon export train in motion.
Although the two countries restored normal relations last December and Norwegian Prime Minister Erna Solberg (pictured) led a high powered delegation of 240 seafood and business leaders to China in the spring, full scale export sales of salmon in particular have yet to resume.
Industry minister Monica Mæland said it was good that talks on a free trade agreement were now under way: 'The reports from the Norwegian negotiating delegation on further progress are promising,' she said.
'This is the ninth round in a long running series of free trade deal negotiations between the two countries and the first since September 2010.
'Earlier meetings were  primarily used to exchange information about where we stand and to set out formal procedures.
'China is a major commercial trading force and a very important trading partner for Norway. A free trade agreement will be important for Norwegian business and will facilitate increased Norwegian exports of goods and services to China.'
Such negotiations are often complex, with issues such as the environment, hygiene, competition and e-commerce coming into play.
The parties agreed to meet by the end of 2017 for the next round of talks.
Meanwhile, in a separate move, the Nordland County Municipality, which includes the  Vesterålen and Lofoten areas and several Norwegian companies, signed a co-operation agreement with Zhejiang Province, which has a population of 56 million and is one of China's richest provinces.
Nordland is a major fish producing area, both farmed and wild caught, and the deal could be worth tens of millions of kroners.