Nordlaks suffers 5,000 litre diesel spill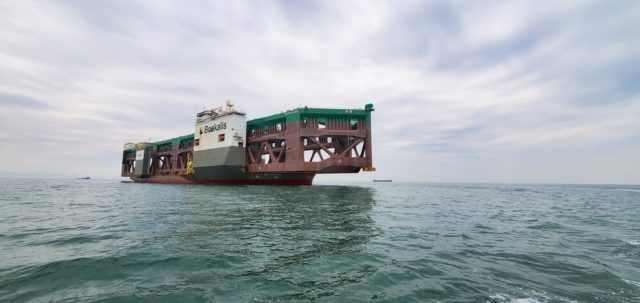 Police and scientists are investigating a large diesel spillage from a fish farm owned by the high profile company Nordlaks. Around 5,000 litres of oil are believed to have come from a site on the island of Grytøya, about 100 kilometres south of Tromso. It has affected a one kilometre long stretch of shoreline.
The incident is an embarrassing setback for a company that less than three weeks ago was the toast of Norway following the arrival of its giant salmon farming platform Havfarm1 from China to an offshore location further south at Hadsel. The local fire service has placed booms and laid out bark to contain and absorb the oil and says the operating is going well.
The leakage seems to have come from a large tank outside the fish farm. Meanwhile, forensic scientists and investigators have been working on the site for the past two days to find the cause of the spill and to interrogate those involved.
Nordlaks communications manager Lars Fredrik Martinussen said:
'It is very unfortunate that diesel has leaked from our plant, and that this has ended up in the sea. In addition to cleaning up, we are also working to find the cause of the spill.
'Nordlaks is now working with external and independent advisers to create an action plan for clean-up and documentation of the discharge.-This work is well underway, and we have put in place the resources we need to do the best possible clean-up job. There is no road connection to the site, so everything that is mobilized in the clean-up work must be transported by sea.'