Nordlaks hail offshore 'revolution'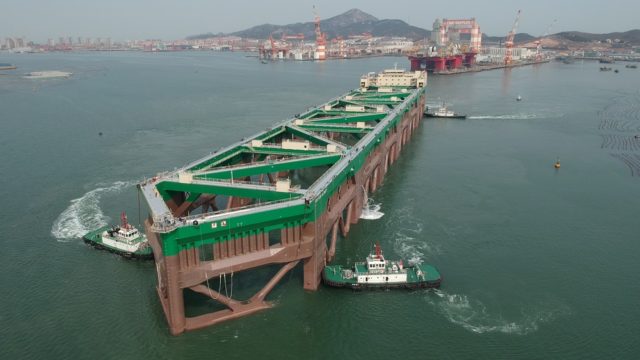 A marine giant is today slowly making a long sea journey to Norway is what it is being hailed as one of the biggest development in offshore fish farming for some time.
Built in China for the salmon company Nordlaks , the 33,000 tonne, almost 400 metre long vessel is scheduled to arrive at its northern water home base around the middle of June. Nordlaks chief Inge Berg said:
'We have a construction which we believe will be revolutionary for offshore coastal fish farming.'
Named 'Jostein Albert' after the company's chairman Josten Albert Refnes, it is scheduled to be anchored off Hadsel where work will begin on preparing it to start production. It is capable of producing up to 10,000 tonnes of salmon worth almost 600 million kroner at current prices in open waters.
The vessel left the Yantai Raffles yard in eastern China at the beginning of April for its long voyage which has taken it around Africa, just over two years after it was laid down. Lars Fredrik Martinussen, communications manager of Nordlaks, told the state broadcaster NRK that the project will herald a new era for the aquaculture industry. He said:
'There is nothing like it. Getting it home will be a huge milestone. It is also built to include special environmental features and should dramatically reduce the number and frequency of salmon escapes'.
Designed by NSK Ship Design, its Sales and Marketing Manager Thomas Myhre described the vessel as unique and one of the largest sea transport voyages of its kind. He also said the coronavirus outbreak had presented a few challenges before it embarked on its voyage, including carrying out some inspections by video camera.
Meanwhile, preparations in Norway for the receiving the vessel are in full swing with the laying of a seven and a half metre long power cable. Nordlaks project manager Bjarne Johansen said the cable will also provide fast internet and communication connections as well as power. It will also do away with the need to use diesel generators.
Nordlaks was established in 1989 when founder Inge Berg, who had studied aquaculture, bought his first license at Hanøya in the Vesterålen region of Norway. Production that year was just 150 tonnes and most of the work was carried out by hand. The company has plans to invest more than four billion kroner in the business of which this giant vessel is part.
Nordlaks is also due to receive a revolutionary new gas powered wellboat, built in Turkey, this year which has also been designed by NSK Ship Design. It is thought to be the first of two such wellboats which will the largest of their type in the world.