'Next generation' vessel goes to work for Scottish Sea Farms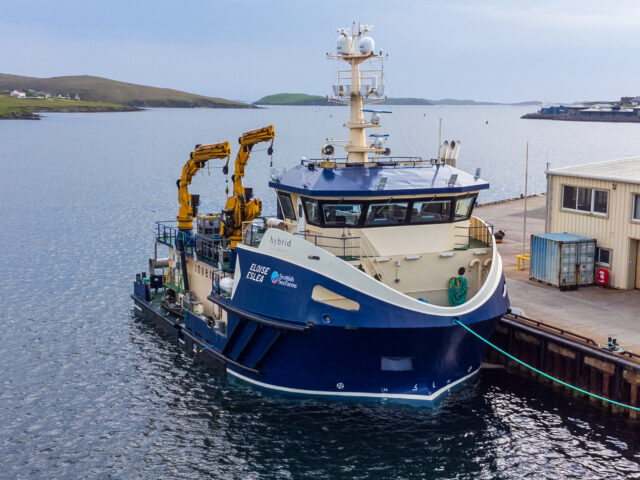 A next generation treatment vessel will go into service this week for Scotland's second biggest salmon farmer, Scottish Sea Farms, following final fit-out and successful sea trials in Shetland.
The 27m Eloise Eslea, built by Dutch yard Nauplius Workboats for Mull-based Inverlussa Marine Services, features a bespoke thermal delousing system, dynamic positioning and hybrid power designed to enhance fish welfare and operational efficiency.
Sister ship to the 26m Kallista Helen, the Eloise Eslea includes several enhancements, said Scottish Sea Farms Shetland Engineering Manager Keith Fraser who oversaw the design of the onboard delousing system which the vessel was purpose-built to carry.
"Without doubt, Eloise Eslea has benefited from the expertise of those behind the Kallista Helen," said Fraser.
"We wanted to build on its key advances – namely, designing the boat around fish welfare, housing the treatment system below deck to protect crew and equipment, and freeing up space on the top deck to reduce reliance on support vessels – and take things a step further."
It is the third delousing system set up by Scottish Sea Farms' Treatment System Operator, Colin MacDonald.
Keith Fraser commented: "The best advice always comes from those who operate the boats because they know how things work day-to-day.
"This has included widening the new vessel by a metre and reconfiguring the layout of the delousing system to extend the treatment loop by 40%, helping reduce treatment time further and ensure the fish have an even swifter, gentler journey."
The company's Area Support Manager for Shetland Robbie Coutts, who oversaw initial trials said the benefits of these modifications are already apparent: "The system performed extremely well, smoothly transferring an average of 110 tonnes to 120 tonnes of fish from pen to treatment cycle and back again and achieving high lice clearance with the minimum of stress.
"Once fully operational, capacity will increase to up to 200 tonnes of fish per hour, as per the system's specification, enabling us to carry out treatments in a much shorter window and, in turn, freeing up the new vessel to support more farms."
Beyond the benefits to fish welfare, other advances include:
Repositioning the auto-washer, used to clean the delousing system after use, to the top deck, creating more room within the treatment area
Fitting protective barriers around the system's lice filters and fish sample area, providing a cleaner, safer working environment for crew
Operating on diesel electric propulsion and a 400kWh battery hybrid solution, lowering fuel consumption and emissions during standby or overnight and improving energy efficiency
Adding capacity for an ISO tank system to treat for amoebic gill disease (AGD), increasing the company's resource in this area and making the Eloise Eslea a truly multi-purpose vessel.
All of these were delivered within the original contract price, says Fraser: "Delivering the system on budget with no overspend has been an incredible achievement, given rising costs in all areas, and a true team effort.
"Local Shetland firms Ocean Kinetics and L&M Engineering, who undertook the engineering and electrical works, have done a fantastic job, and I couldn't say enough good things about Ben Wilson and his team at Inverlussa."
The Eloise Eslea will be deployed across Scottish Sea Farms' estate in the Northern Isles and along Scotland's west coast.