New workboat for Shetland farms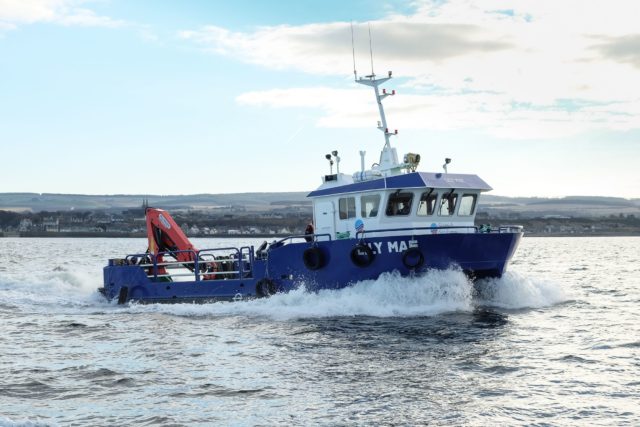 SCOTTISH Sea Farms has recently taken delivery of a new workboat, built by Macduff Shipyards, for its Shetland sites. The 14m catamaran, Lily Mae, was designed specifically for the aquaculture industry.
The vessel is arranged above deck with the wheelhouse and raised deck forward and a large open deck aft.
Below deck the hulls are sub divided with an aft peak containing the steering gear, engine rooms in the centre and a forward peak.
The wheelhouse has been fitted to the yard's typical high standard and is laid out with a helmsman station on the starboard side and a galley/mess area to the port side.
With a beam of 6.20m and a depth of 2.10m, the catamaran exhibits great stability, has a large working deck of approximately 60m2, and is capable of carrying 20 tonnes.
A Palfinger PK18500(M)B deck crane is fitted which is capable of hoisting 1,600kg at 10.1m reach along with two separate Rapp Marine capstans with a pull of 5 tonnes and 1.5 tonne.
Operations are based primarily over the starboard side and transom where there are removable railings which fit into flush mounted stainless steel sockets.
A large HDPE panel is fitted along the starboard side of the vessel in way of the region that contacts and rubs against the salmon cages, to provide extra durability.
The propulsion package consists of two Iveco N67 engines with a power of 260hp each, driving 965mm diameter open propellers through PRM 4:1 reduction gearboxes. On trials the vessel achieved an average top speed of 10 knots.