New vessel to feature at IceFish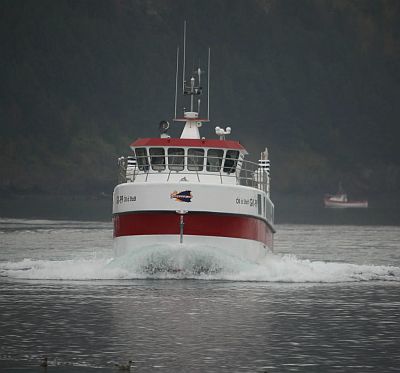 SEIGLA introduce the newbuild Óli á Stað at the Icelandic Fisheries Exhibition.
The vessel is an Auto-longliner for Stakkavík ehf, Iceland, and is formally to be delivered at the Icelandic Fisheries Exhibition.
The vessel is Seigla's new design, based on former design Saga K, Seigur 1500XW. The overall length is 14.8m, the largest under-15m vessel in Iceland.
The vessel is 5.7m wide and the fish hold has a capacity of 47m3. With a different design there is possible to increase the volume of the fishing hold up to 57m3.
On the working deck, Óli á Stað will be equipped with an Auto longline system with 22,000 hooks and a hauler from Mustad, (delivered by Tóbís Iceland).
The washing and bleeding system will be installed from Beitir. The engine room will be installed with 911 hp Yanmar engine and two 32kW Northern Light generators.
There is an Ice Machine K4 from Kæling installed and on the bow and stern there is a 500mm bowthruster from Sleipner, delivered by Marás ehf Iceland.
On the upper deck there is a crane with remote control from Amco Veba.
In the wheel house there state-of-the-art navigation equipment, delivered by Sónar ehf Iceland. Autopilot is from Simrad, delivered by FAJ Iceland.
For the captain there is a fine leather chair from Cleeman. Searchlight is 575W Metal Halid from Francis Searchlight UK.
Accommodation consists of 4 cabins with two beds in each, plus a closet and bench. Below the wheelhouse there is a fine kitchen, and modern mess.
The TV lounge has leather benches, and in the front of the boat there is a shower room and a laundry room. All of the woodwork in the accommodation is installed by Heidgud Byggir, Akureyri.
All of the accommodation is fitted with marine lights from Quick Nautical Equipment, Italy.