New trawl door reduces seabed contact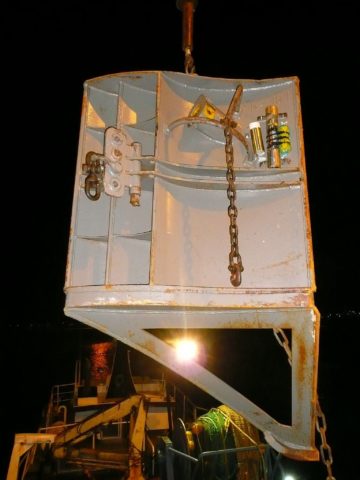 A NEW type of trawl door designed to minimise contact with the seabed will be on display at a fishing show in France next week.
Made by French company Morgére, the door, known as the Jumper, only intermittently hits the bottom before jumping up again.
This delivers environmental benefits by significantly reducing contact time on the sea floor.
The Jumper door has undergone a number of developmental flume tank and sea trials working in conjunction with Ifremer, the French national fisheries research and support institute.
The Jumper works through design elements that makes the door roll inside, thus producing an upward hydrodynamic force, which in turn relieves pressure on the seabed.
The 'V' shape of the design also means that only a few heavy protective shoes are required at the lower end of the door.
The project has now reached a stage where the doors are ready for commercial fishing trials, which will take place shortly.
Michel Dagorn of Morgére said: 'We are pleased with the developmental progress of this new type of door.
'During the trials, a good spread and angle of attack was achieved and the doors were very stable. We are delighted that we are now able to show this design at the Itechmer expo so as to alert skippers to the benefits offered by this new exciting new development.'
A model of the Jumper door will be on display on the Morgére stand at next week's Itechmer 2015 exhibition in Lorient (from October 14 to 16).
At Itechmer (stand B140), Morgére will also be promoting its successful PV3, Exocet and SPFPE doors, as well as a prototype of a new semi-pelagic door.