New thinking needed on seafood products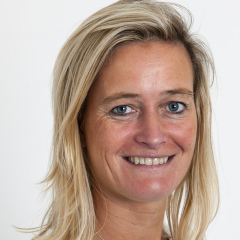 THE time has come for some fresh thinking and ideas about how to present fish to the public, the Humber Seafood Summit was told this week.
Claire Nuttall, CEO and innovation strategist with the Brand Incubator, an organisation that helps businesses innovate and grow, delivered a passionate talk urging the seafood industry to take another look at its product strategy.
She said: 'One of the big challenges today is how to justify premiums and you have to include fish in that. Asking them to eat seafood more than once a week is tough.'
Nuttall (pictured) said ten years ago life was all about money, but in the last five years trends had started to change, with healthy eating becoming fashionable.
As a result, people pursuing healthy lifestyles were prepared to pay more for their meals. She described this movement as 'health hedonism'.
'Health is trendy, fashionable and cool. People want to stay young and look good, they want to stay in the workplace and they want to keep doing things into their seventies.'
This meant they were now looking more closely at the type of nutrients in their diets and hitherto unusual foods, such seaweed and algae, were becoming fashionable.
'Fish is so much better to help us stay young and I believe everyone can afford to eat healthily. Fish is not only delicious, but it has long term preventative benefits,' she added. 'And it is one of the purest foods you can eat.
'Malnutrition is not just about the Third World – it is here in the UK because people are not eating the right nutrients.
'Obesity is costing the nation a fortune because a lot of food is over-processed. But fish is a performance food and we should encourage people to eat more of it.'
Saucy Fish, Nuttall said, had changed a lot of ideas about seafood and the company should be proud of itself – 'branding is everything and Saucy Fish fits that perfectly'.
But it was also time for the industry to look outside the box at further innovation. One idea, she suggested, was to develop products around fish flakes which could then be added to pasta or rice with various sauces to make a healthy, but satisfying meal.
Earlier, Jack MacIntyre, lead analyst at Global Data, spoke about the growing potential of the seafood sector.
More than a quarter of the population now eat out at least once a week, creating a UK sector delivering 75 million kilos of seafood a year and this would grow by 2.7 per cent a year over the next four years. Demand for seafood in foodservice would more or less increase in line with that figure.
Seafood, he added, could offer both healthy and indulgent eating at the same time.
Jonathan Banks, head of Jonathan Banks Associates, which tracks and predicts consumer trends, said meat consumption was in decline while fish sales, especially in the chilled sector, were on the increase.
The industry, he said, now needed to look at increasing the number of fish consumers with new ideas such as seafood snacks.