New Orkney farm to bring £3.2m boost for Scotland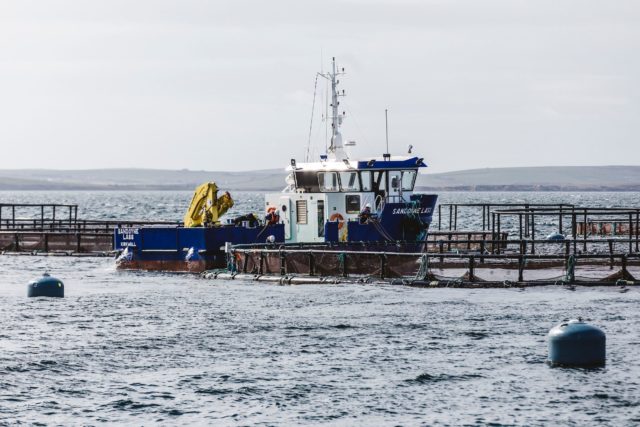 SCOTTISH Sea Farms has won approval for a new salmon farm in Orkney which, it says, will bring a £3.2 million boost to the Scottish supply chain.
The site, off the small island of Hunda within Scapa Flow, has been years in the planning. With consent to grow up to 1,677 tonnes of salmon, the new farm will see investment in infrastructure including:
• 60m grid structure and associated mooring systems;
• 12 x 100m diameter pens which will benefit from innovative new netting to keep salmon and local marine life safely separate;
• 200-tonne feed barge with high-tech control room and capacity to control feed portions to the nearest 50g;
• Underwater cameras to monitor fish health and behaviour in real-time;
• Environmental monitoring technology to detect any changes in oxygen levels or water quality; and
• 14m catamaran-style workboat.
Scottish Sea Farms' production manager for Orkney, Richard Darbyshire, said: 'Salmon farming continues to advance at great pace and this new farm at Hunda will benefit from the latest know-how and technologies.
'Each and every aspect of our farming activity has been carefully considered: from enhancing fish health and welfare, to protecting local marine life and the surrounding environment.'
Overseeing day-to-day activities at Hunda will be a specialist farm team, creating six new full-time roles and delivering a £200,000 cash injection in terms of local salaries.
There will also be significant investment in training and development, further adding to the existing skills base in Orkney.
Scottish Sea Farms' head of Human Resources, Tracy Bryant-Shaw, said: 'Well-paid, skilled jobs are crucial to enabling people to remain within remote and rural communities, so we're delighted to be contributing an additional six full-time jobs to Orkney.
'Each job comes with training and development, delivered by local providers wherever possible, including the opportunity for those in trainee roles to undertake a Modern Apprenticeship.'
The approval of the Hunda farm, which is expected to go live in spring 2020, coincides with the news that Scottish Sea Farms' Richard Darbyshire has been named the People's Choice at the 2019 Aquaculture Awards.
The accolade, which was determined by public vote, was awarded in recognition of Darbyshire's contribution to sustainable farming during Scottish Sea Farms' first 10 years of farming Orkney waters.
Scottish Sea Farms was also announced winner of the Diversity category for its work to attract more people into the sector and ensure the best candidate for every job, and co-winners of Applied Research Breakthrough for its collaborative project with Mowi, BioMar, the Institute of Aquaculture at the University of Stirling and the Scottish Aquaculture Innovation Centre to complete the lifecycle of farming wrasse in a controlled environment.