New markets drive Norway cod exports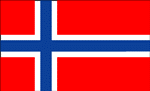 EXPORTS of the main white fish species such as cod, haddock and saithe grew on average by 21 per cent during August, figures from the Norwegian Seafood Council show, thanks in part to emerging markets.
The picture for the year to date is also encouraging, with the sales value increasing by 11 per cent to NOK 10 billion.
Ingrid Kristine Pettersen, analyst at the Norwegian Seafood Council, said: 'Frozen cod fish has increased the most, by 15 per cent or NOK 464 million, while clipfish saw a 16 per cent or NOK 330 million increase from the same period last year. Brazil is the market that has increased the most.'
Taking just the August figures, exports of fresh cod, including fillets, totalled 2,100 tonnes, worth NOK 76 million.
This is a volume increase of 400 tonnes or 20 per cent, and a value increase of 13 per cent or NOK 9 million on August last year. Denmark and Spain were again the largest markets for fresh cod.
So far this year, Norway has exported 58,200 tonnes of fresh cod, including fillet, to a value of NOK 1.9 billion. This is a volume increase of 4,600 tonnes (or nine per cent) and an increase in value of 10 per cent or NOK 180 million.
Frozen cod exports, including fillets, last month totalled 8,300 tonnes worth NOK 251 million. Volumes were up by 2,900 tonnes or 54 per cent and the value was up by 57 per cent or NOK 91 million.
The UK and China were the main buyers of frozen cod. So far this year, Norway has exported 54,200 tonnes of frozen cod, including fillets, to a value of NOK 1.8 billion, up by NOK 121 million.
Clipfish exports (7,700 tonnes) were worth NOK 354 million during August, a rise of 35 per cent on the same month last year, with Portugal and Brazil the big markets.
The value of saltfish exports, however, was down five per cent to NOK 34 million.
Pelagic fish sales also did reasonably well. Norway exported 13,600 tonnes of herring last month, mainly to Poland and Germany, worth NOK 155 million, a value increase of six per cent.
The mackerel season did not get underway until late August but figures show a 64 per cent increase in value to NOK 92.9 million.
Meanwhile, South Korea is becoming the main market for Norwegian king crab, with sales up by 41 per cent to NOK 94.3 million.
Prawn exports – where Britain and Sweden are the main markets – totalled 887 tonnes worth NOK 66 million last month, down four per cent in value.