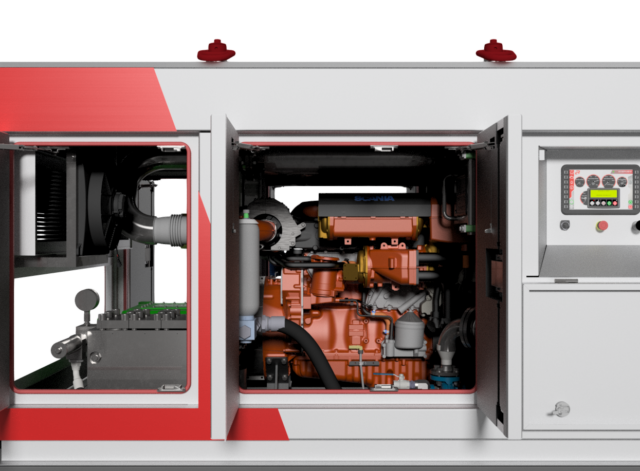 Brimmond launch UK's first turnkey aquaculture net cleaning tech amid Government drive to double sector's value
North-east Scotland based engineering specialist, Brimmond, has launched its latest technology, NetJet™ which sees it become the first company in the UK to offer a full 360° manufacture, rental and support package for high-pressure net cleaning pumps for the offshore aquaculture sector.
Brimmond, which specialises in the design, manufacture, rental and repair of lifting, mechanical and hydraulic equipment for industry, has invested c. £450,000 developing the high-end pump units, NetJet™ in-house. The firm's engineering team designed, specified and manufactured the pump units, following the identification of a gap in the flourishing aquaculture market for a rental option for net cleaning pumps.
While the technology exists to speed up the operation, the six-figure purchase price represents a considerable – and for many, unjustifiable – outlay.
The Brimmond rental service offering plugs this gap and is further bolstered by the firm's customer care package. Brimmond have also invested in a fleet of specialist vans maintaining a stock of critical spares which can be rapidly deployed to provide clients with technical support and maintenance.
NetJet™ – what is it?
The NetJet™ 350D is a pump unit for net cleaning in the harshest of environments.
The unit features a KAMAT High Pressure Plunger pump, driven by a Scania DI09 Marine engine. The externally mounted duplex filters, air filtration and completely removeable canopy provide easy and safe maintenance, as well as increased uptime.
The NetJet™ is also available to purchase and can be configured to your exact specification, with options including diesel engines or electrical motors.
Key features:
• KAMAT High Pressure Pump: Max Flow – 500lpm, Max Pressure – 230 Bar
• Scania DI09 Marine Engine: 350hp
• 9" Digital Display + Radio Remote
• Stainless Steel Fuel Tank: 290L
• Externally Mounted Duplex Filters: 4" Stainless Steel
• Removeable Marine Grade Aluminium Canopy
How can NetJet™ help me?
User-friendly net cleaning
• From initial installation onwards, every aspect of NetJet™ has been carefully designed to make net cleaning as safe and straightforward as possible.
• Flow and pressure are both easily adjustable, offering a pressure range from 50 to 230 Bar, and a flow range from 250 to 500lpm.
• The robust and reliable four-point lifting frame ensures safe and easy relocation.
• The system is fully controllable using radio remote control or a local 9" LED control panel which has been specifically developed for the NetJet™.
• Integrated 290L stainless steel fuel tank with bulkhead fill point for vessel tie-in and low level shut-off.
• The unit is also fitted with sound attenuating foam to keep the operating noise level to a minimum.
Ease of maintenance
• Ease of maintenance was one of the primary design objectives for NetJet™.
• The unit has various doors and access panels, ensuring easy access to key service and maintenance areas.
• For more extensive servicing the canopy is easily removed, allowing uninhibited access to the pump and engine.
Increased uptime
• The user-friendly "plug and play" system is easy to install and adaptable for all net cleaning systems.
• The 4" stainless steel duplex filters are mounted externally giving unrestricted access for safe filter changes while the unit runs, enhancing productivity and negating the introduction of salt water into the unit during routine filter changes. The filters can be supplied with reusable mesh baskets or disposable filter bags.
Tom Murdoch, Managing Director of Brimmond, said: "We appreciate that not every business has the budget required to purchase equipment that will enable them to enter this growing market – the NetJet™ is our solution to this challenge. Renting the equipment enables smaller businesses to clean aquaculture nets as quickly and efficiently as possible, without the high CAPEX costs of buying the equipment outright.
"As with all our other service offerings, our relationship with customers is just beginning when they rent our pump systems. We work closely with them to establish vital details such as vessel footprint, location, and deck fastenings, connections and fittings. Our ongoing customer service is second to none, and we are always on hand to provide technical support and spare parts. The fact that we are based in Scotland is a huge advantage – as a local business we can respond promptly to our customers, ensuring that they can get the most value from the units."
Brimmond will be on the Scottish Pavilion stand D-334 at Aqua Nor in Trondheim from 22-24 August.
For more information visit www.brimmond.com, for rental and sales enquires contact sales@brimmond.com, or call +44 1467 633805.