Nebraska algal oil plant targets salmon diets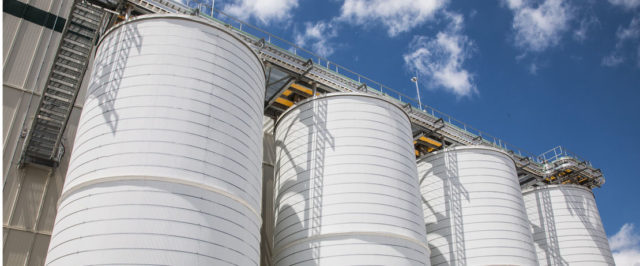 THE world's largest factory for producing algal oil for salmon diets was officially opened today. 
The commercial scale facility, in Blair, Nebraska, in the US, represents a $200 million investment by Veramaris, a joint venture between Evonik Animal Nutrition and Dutch company DSM.
Through the fermentative manufacture of natural marine algae, the new plant produces algal oil containing the omega-3 fatty acids EPA and DHA, meaning that fish oil need not be a limiting factor for the further growth of aquaculture.
The product enables salmon farmers to become net fish producers, while reversing the decade long decline of EPA and DHA omega-3 levels in salmon, said Veramaris.
The initial algal oil produced in the plant could supply approximately 15 per cent of the annual demand the global salmon farming industry has for EPA and DHA, without using any fish oil from wild caught fish, the company said.
Feike Sijbesma, CEO and chairman DSM's managing board, said: 'I am pleased that together with Evonik we have reached a key milestone in turning the tide.
'Through Veramaris, we are able to reduce the aquaculture industry's reliance on the world's finite fish oil resources for these vital omega-3 fatty acids.'
Christian Kullmann, chairman of the executive board of Evonik, added: 'In Veramaris, we have combined the competencies of two strong partners to make an innovative contribution to the healthy nutrition of the world's growing population, without putting any further burden on our oceans.'
The production of the Veramaris algal oil is based on the natural algae strain schizochytrium, which DSM has brought to the partnership with Evonik, the companies explained in a press release today.
The joint development of the strain right up to commercial production, and the joint development of the process, formed the basis for the new production plant.
Evonik constructed the plant on site in Blair next to its existing facility, where it has long been running a fermentation process to produce feed additives for animal diets.
Through the addition of amino acids from Evonik and modern feeding concepts, the animal nutrition industry has already managed to significantly reduce the amount of fishmeal used in fish feed, said the company.
Now, the algal oil produced by Veramaris enables the reduction of the fish oil share without impacting the omega-3 fatty acid content in the farmed fish.
Veramaris celebrated the opening of its new facility in the presence of Nebraska Governor Pete Ricketts, local authorities, Feike Sijbesma and Christian Kullmann, the CEOs of the Veramaris parent companies DSM and Evonik, guests and staff in a ceremony at the site today.
The zero waste facility was completed in May ahead of schedule and on budget, said Veramaris, adding that the next step is ramping up for full production.