NAFC trainers chalk up 45 years in 'classroom'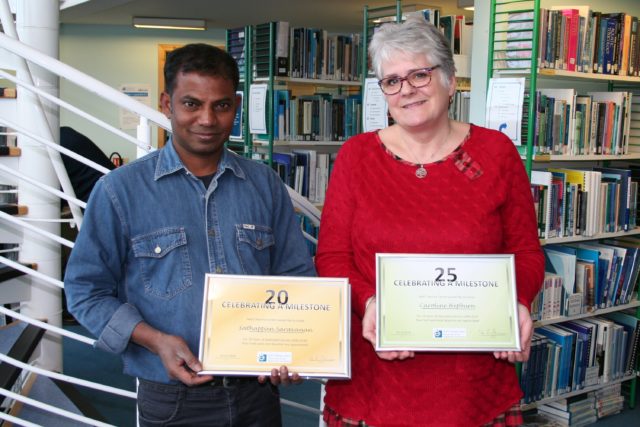 SHETLAND'S NAFC Marine Centre has marked the long service of two staff who have worked there for a total of 45 years.
Caroline Hepburn, who celebrates 25 years at the centre, joined the then Shetland Fishermen's Training Association (SFTA) in October 1998.
She worked with the late Gussie Angus to organise training for the local fishing and aquaculture industries, helping to start the careers of many of Shetland's current fishermen.
Her industry liaison role continued after the SFTA was absorbed into NAFC, but has since expanded to include support for all students attending both NAFC and Shetland College.
Saro Saravanan joined the NAFC's staff as a hatchery technician in 2000, after first arriving at the centre two years earlier to enrol on NAFC's HNC course in Fisheries Science.
While working on a shrimp farm in his native India, Saravanan had been planning to apply to university in Canada until a chance sighting of an advert in Fish Farmer led him to Shetland instead.
He worked in the NAFC hatchery for many years on species including lobsters, halibut and cod.
During that time, he became increasingly involved in the training of aquaculture apprentices and other aquaculture students and led the development NAFC's online aquaculture training courses.
He transferred to NAFC's Training and Skills Department as an internal verifier in 2015, and now he helps maintain the academic quality of the centre's aquaculture training and continues the development of online courses.
NAFC's head of aquaculture training, Stuart Fitzsimmons, said: 'Saro and Caroline have been excellent ambassadors for the NAFC Marine Centre over many years, and their excellent services are greatly appreciated by staff, students and industry.
'It is a great achievement for both of them and we wish them best of luck for the future.'
NAFC principal Willie Shannon added: 'These milestones represent significant achievements by two key members of staff, both of whom have made substantial contributions to the NAFC Marine Centre and to the industries that the centre serves.'