Mowi uses 'Gannet' to process salmon at sea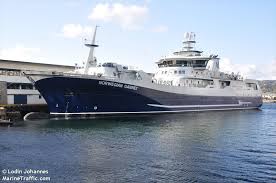 PROCESSING salmon at sea could address the potential crisis of delayed cross Channel freight deliveries in the wake of a no deal Brexit.
The new Norwegian processing ship Norwegian Gannet has made its first trip to Scotland, picking up 594 tonnes of salmon from Mowi's Portnalong site on Skye.
According to a report today by Fish Farming Expert, the fish was primary processed on board and delivered to the port of Hirtshals in Denmark.
Mowi reportedly used the Hav Line boat to solve its own processing bottlenecks, created by bumper harvests in Scotland this year. But the solution could be deployed by other farmers in the future.
Hirtshals harbour board chairman Anker Laden-Andersen said the port could become the northern European distribution hub for salmon.
'It is obvious to see the first voyage of Norwegian Gannet [to Scotland] from a Brexit perspective,' he said.
'After all, there is a certain likelihood that the British will leave the EU on October 31, 2019, without a deal – no Brexit agreement – and that will very likely mean that freight transport in the area around the English Channel will collapse.
'Therefore, the collection of salmon in western Scotland and delivery in Hirtshals, which Norwegian Gannet has just completed, is just proof that the innovative Norwegian salmon industry can find solutions to the upcoming challenge.
'In addition, we as a port can only be satisfied that it has once again been proven that the unique location of Hirtshals port enables the most efficient transport solutions across the North Sea.'
Carl-Erik Arnesen, CEO of Hav Line, who was on the trip from Skye to Denmark, told Fish Farming Expert's sister site, Skipsrevyen.no: 'We picked up the salmon west of Scotland, and the pick-up of the salmon continued according to plan.
'After only 46 hours of sailing from the farms, fresh salmon was delivered to the salmon terminal in Hirtshals harbour; the whole task was solved to the satisfaction of the farmer.
'Of course, it has been exciting to pick up salmon in Scotland, since we have so far only collected salmon in Norway, and here we have worked up a certain routine.
'The first trip to Scotland has therefore been an important milestone in the development of the entire Hav Line concept.
'This is proof that the innovative Norwegian salmon concept – the Hav Line method – is so groundbreaking and sustainable that it can already prove its strength even outside Norway.'
The Norwegian Gannet is due to make an appearance at Aqua Nor in Trondheim next week. Arnesen will present an update on the first months of operation, and Ove Wilhelmsen of the vessel's designer, Wärtsilä Ship Design, will discuss its technology.