Mowi Q4 revenues hit record levels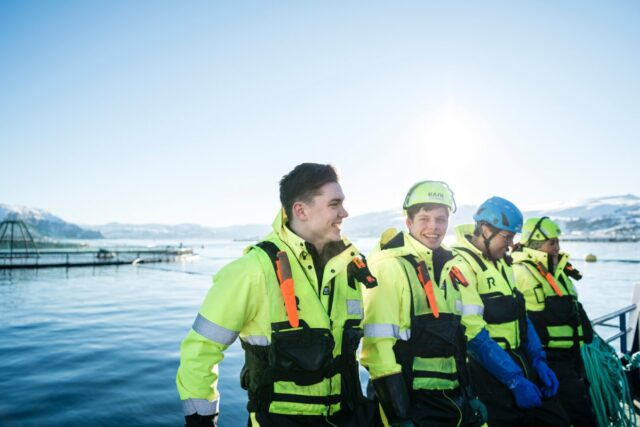 Mowi today unveiled record-high quarterly revenues of €1,362m (£1,208m) for the final three months of 2022. Operational profit or EBIT was €239m (£212m) against €146m (£130m) 12 months earlier.
The situation is also looking brighter for Mowi Scotland, with a steady but continuing improvement in the biological situation.
Mowi plans to pay around £72m in dividends (NOK 1.70 per share) to investors.
For the first time in its near 60-year history the company has crossed the one-billion-euro earnings mark during a quarter. Operational profit for the full year reached €1,005m (£892m) on record revenues of almost €5bn (€4,946m).
Mowi CEO Ivan Vindheim said: "I would like to express my enormous appreciation to all of my 11,500 colleagues in the organisation, without whose dedication and hard work these milestone results would not have been possible."
Mowi harvested 131,000 tonnes in the quarter and a total of 464,000 tonnes in 2022. In Norway, harvest volumes reached a record-high level of 294,000 tonnes.
"I am pleased to see the tremendous progress we have made in Norway in recent years. An abundance of consistent hard work has propelled Mowi towards the top when it comes to license utilisation and production efficiency in this country," Vindheim said.
Fears over salmon tax
Mowi is among the leading employers in Norway, employing one in 300 of the country's workforce. The company said it was afraid that its ambitions for continued growth in Norway will be severely inhibited by the government's proposal to impose a resource rent tax on aquaculture.
Vindheim explained: "The Norwegian government's proposal for an effective tax level of 62% for the Norwegian salmon-farming industry, or approximately 80% with Norwegian wealth tax, will completely undermine future growth prospects for coastal Norway's most critical industry.
"This industry currently employs 60,000 people in coastal communities, and at the end of the day it is their livelihoods as well as future job creation that are being put in peril.
He added: "Consequently, I sincerely hope that government and parliament will listen to the industry and wider coastal communities and choose a different tax rate and a tax model that is less devastating to the Norwegian aquaculture industry so that we can continue to invest in coastal Norway in the future."
Scotland pays the cost of health challenges
Operational profit for Mowi Scotland totalled €7m (£6.2m), slightly down on the same period in 2021, but more importantly the EBIT per kilo rose from €0.61 (£0.54) to €0.67 (£0.59).
The company said the positive effect of improved prices vs. the fourth quarter of 2021 was offset by higher cost following challenging biological conditions.
This was related to SRS (salmon rickettsial syndrome) outbreak in the Argyll region as well as gill issues in the aftermath of the microjellyfish blooms experienced in the third quarter.
Mowi said the overall price achieved in Scotland was 15% above the reference price in the quarter.
"The contribution from contracts relative to the reference price was positive in the fourth quarter of both 2022 and 2021. The contract share was 82% in the quarter (75%).
"The fourth quarter harvest volume was 10,386 tonnes gutted weight, which was somewhat down from 12,002 tonnes in the comparable quarter in order to build biomass," says the report.
"However, the full cost per kg was also high in the fourth quarter driven by a prolonged period of biological challenges in addition to increased feed prices.
"Non-seawater costs were impacted by incident-based mortality, amounting to €8.0m (£7.1m) compared to €6.7m (£5.9m) in Q4 2021, or EUR 0.77/kg, related to SRS and gill issues.
"The UK recorded its warmest year on record and this directly impacted seawater temperatures, consequently 2022 has been a challenging year for our Scottish farming operations.
Nevertheless, biological conditions improved during the quarter. Overall production and feed conversion rates were also better in the fourth quarter than in the comparable quarter."
The SRS outbreak in the Argyle region was detected and treated quickly, Mowi said, and towards the end of the quarter mortality from this cause declined markedly. Growth and average harvest weight increased in the fourth quarter and some recovery of biomass was achieved. Sea lice levels increased somewhat but were kept under control with treatment activities.
Salmon that were relocated to inshore sites during the jellyfish bloom recovered well and were harvested at the end of the fourth quarter, with some stocks being deferred for harvesting into the first quarter.
The Scotland report concluded: "Further to this we will prioritise biomass growth. Harvest weights have improved in the new year on better fish health which should prepare the ground for better operational KPIs."
Mowi Ireland was badly hit by various biological issues and reported a Q4 operational loss of €3.1m against an operational profit of €1.5m in Q4 2021.
As with Scotland, Ireland was hit by SRS issues following an exceptionally hot summer.