Mowi graduate trainees join the company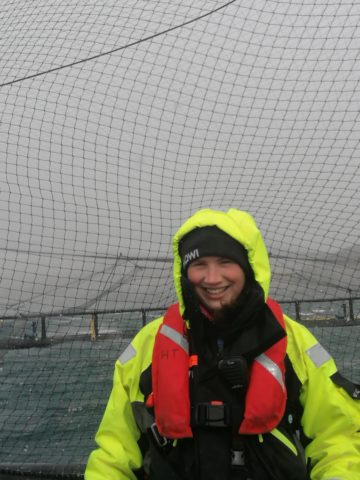 Three graduates who joined Mowi Scotland 18 months ago on a training programme have been hired to permanent posts.
Connie Fairbairn, Shannon Graham and Hilary Turnbull spent 18 months learning the farming business. During this time they have been hands on at hatchery, freshwater and seawater sites, and supported through a structured programme with personal development plans combining practical tasks with academic study and management experience.
Having now completed the training programme, they have secured permanent positions. Connie Fairbairn and Shannon Graham will take up trainee Assistant Manager positions in seawater and freshwater respectively, while Hilary Turnbull has secured a role as Health Manager in the Western Isles.
The ability to gain an understanding of all areas of Mowi Scotland was extremely beneficial, as Fairbairn explained: "I have enjoyed my time on the graduate programme and am very happy to now be placed permanently. One of the many highlights of the programme is the ability to experience all aspects of the business. Despite Covid, the support from managers and staff during this time has been excellent and much appreciated. I hope to continue progressing towards a farm manager position and learn from all members of staff at Mowi."
For Shannon Graham, the encouragement to participate in industry-wide initiatives increased her understanding of aquaculture: "We were encouraged throughout to expand our network and often given the chance to be involved with projects working alongside other industry professionals like SAIC, SSPO and Marine Scotland.
"Since joining Mowi in July 2019, I have spent time in both seawater and freshwater – where I am now in a permanent position as Assistant Manager at Lochailort Hatchery. The graduate programme provided me with the opportunity to gain experience across all aspects of the aquaculture industry from daily husbandry routines to production planning, smolt transfer, harvesting, health assessing, budgeting and forecasting."
The graduates' training on- and off-site was able to continue despite the Covid-19 pandemic, Mowi said.