Mowi branded salmon lands on Sainsbury's shelves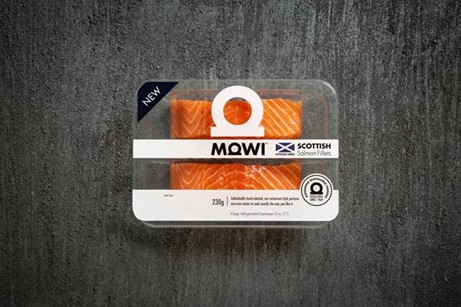 The Mowi consumer salmon brand has moved into the UK retail sector for the first time – and with Scottish fish.
The world's largest salmon farmer has started selling three products through Sainsbury's which owns 600 supermarkets and 800 convenience stores.
The products are Smoked Scottish Salmon Slices (rsp – retail sale price – £5/100g), piri piri-flavoured Slow Roast Salmon Fillets (rsp £5/180g) and Scottish Salmon Fillets (rsp £4.50/230g).
Mowi said the move brings a new dimension to the fresh salmon chillers in UK supermarkets offering "delicious product range that has been described as stand-out".
MOWI's supreme quality Scottish salmon will be immediately available exclusively at Sainsbury's, in-store and online,
The company said salmon growth has outpaced other increases in grocery due to its health credentials and because consumers now make more time to cook at home.
With over half of all consumers saying they want to eat fresh fish more often, and with a large proportion of salmon growth being incremental to the category, the MOWI products all tap into consumer opportunities and trends and help the retailers capture great sales opportunities.
James Cowan, Head of Sales for Mowi Consumer Products said: "We are investing in Mowi to play a dynamic role, inspiring new consumers to eat salmon on new occasions and to inform consumers that not all salmon are equal.
"Mowi salmon is high in Omega-3, and fresher than fresh for taste. Retailers who support the Mowi brand will inevitably benefit from a halo of the brand driving traffic to stores."
He added: "The products are packed to show the top quality, which will be attractive to both new and existing seafood shoppers. We are getting right behind the launch with TV and online advertising, which will drive sales, interest and valuable shoppers to our customers seafood aisles."
Mowi first announced plans for a brand launch more than two years ago when it changed its name from Marine Harvest.
Its Scottish production factory captured the Sainsbury's salmon contract from Young's of Grimsby two years earlier.