Mowi and Walmart help launch First Nation salmon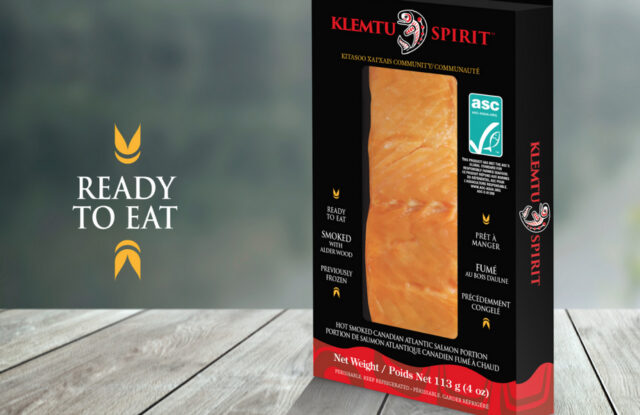 Walmart Canada has become the first large retailer to market salmon produce by the First Nation people of the Kitasoo and Xai'xais, British Columbia.
The Klemtu Spirit Hot Smoked Atlantic Salmon has been created in partnership with Mowi Canada West and packaged by the First Nation group in Klemtu, BC.
They were directly involved in approving the locally inspired name and artwork for this new product. Klemtu Spirit is the culmination of a 30-year partnership between the Kitasoo- Xai'xais First Nation and Mowi operating in their territory.
Fish farming and processing is the main source of employment in Klemtu, generating more than 50 jobs for the small, remote community on the central coast of British Columbia.
The people of the Kitasoo-Xai'xais First Nation pride themselves in stewarding their territory and guarding their values to ensure all products are produced in a way that protects nature as part of their heritage.
Walmart says that for Indigenous people, it is important to ensure that their future generations inherit healthy lands and waters to steward for the next millennia.
The retailer added: "Walmart Canada is proud to support this initiative by making the product available nationally in more than 330 stores across the country.
This is only the beginning of Walmart Canada's commitment to the Kitasoo-Xai'xais First Nation. The retailer is exploring ways to use its size, scale and expertise to create further ties and partnerships in the community."
Diane Morrison, Managing Director, Mowi Canada West said: "Mowi Canada West is privileged to operate in the breathtaking, coastal village of Klemtu and it is with great respect that we maintain a strong relationship with the Kitasoo-Xai'xais people who continue to allow us to farm sustainably in their territories,"
"This long-term relationship has culminated in this amazing product, created by the people who proudly call this home."
The initiative highlights the complex relationship between First Nations and salmon farming in Canada. While some indigenous representatives see aquaculture as an opportunity, others say that it threatens their traditional way of life.